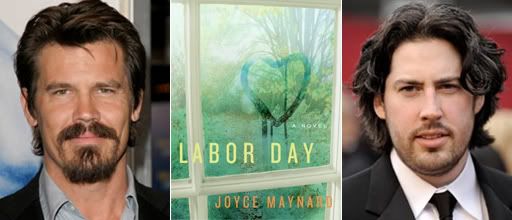 While it originally looked like Josh Brolin was set to join Jason Reitman's upcoming reunion with Diablo Cody for "Young Adult," the actor has now revealed that though he is in talks to join a Reitman project, the Cody-scripted dramedy isn't it.

"We're talking about another film — I think that's where the wires got crossed," Brolin told the Winnipeg Free Press. "He's doing another film with Charlize right now, and I read it, and it's very, very good. But no, it's another project we're talking about doing."

Brolin never explicitly reveals it but strong chances are the project he references here is Reitman's adaptation of Joyce Maynard's "Labor Day," a coming-of-age tale about love, sex and the pains of adolescence, which follows a teenager as he is befriended by an older gentleman who goes on to mentor and teach him about life (Anne Thompson was around Reitman last night and said, "Labor Day" would follow" Young Adult" -- she also compared the tone of the later to Gus Van Sant's quasi dark comedy, "To Die For"). Brolin seems a good fit for the role of said mentor Frank, who, according to the novel's Amazon synopsis, teaches his young counterpart "some of life's most valuable lessons: how to throw a baseball, the secret to perfect piecrust, the breathless pain of jealousy, the power of betrayal, and the importance of putting others—especially those we love—above ourselves."

Reitman has been diligently adapting Maynard's novel since finishing up on "Up In The Air" and was seemingly set to tackle the project next until Cody's "Young Adult" — which we described in our script review as the writer's "most mature effort to date, largely dispensing with the annoying slang she's been tagged with [and] more complex and emotionally layered than 'crazy-bitch-stalks-her-old-bf' logline — came into play. The helmer even noted earlier this year that "I know what actors I want for it. I'll be able to go to them easily and, presumably, it'll be an easier greenlight than my first movie. Or my second movie."

"I'm really excited about it," he concluded, understandably. "Really excited," as are we about the potential Reitman-Brolin teaming. We won't get too eager yet, however; even though it does look to be his next project up, there probably won't be much movement on it for a good a year or two since shooting on "Young Adult" is slated begin this November with Charlize Theron in the lead. No word on who her real male co-star will be.