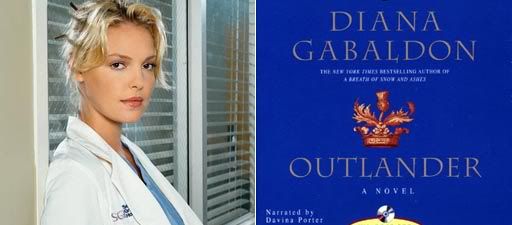 With the rom-com "Life As We Know It" hitting theaters next weekend, and the high concept private investigator flick "One For The Money" arriving in 2011, Katherine Heigl is considering a shift into some straight fantasy/dramatic fare for her next film.

In an interview with the NY Times, the actress reveals she's circling the lead role of the film version of Diane Gabaldon's "Outlander" saying, "Scotland? 2012? What do you think?" The book, the first in a six novel series, starts in 1945 and follows Claire Beauchamp Randall, an English nurse, who while on honeymoon in the Scottish highlands is transported back in time to 1743, where she finds a series of adventures and romance.

The books were optioned by Essential Pictures back in 2008 with an eye to creating a franchise. Randall Wallace ("Braveheart," "Pearl Harbor") was hired to pen the script, with a director being sought for a 2009 start. Obviously that didn't happen, but if Heigl were to join, we would imagine the pieces would come together quickly. However, judging by her comments, it doesn't seem likely to shoot until 2012.