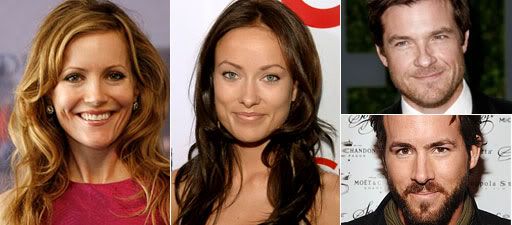 While suddenly busy A-lister Ryan Reynolds debates which one of two projects he may have to bail on (possibly "Deadpool" or "R.I.P.D."), one project that is moving full steam ahead is the body-switching comedy "The Change Up," c0-starring Jason Bateman and Olivia Wilde who joined the cast last week.

Deadline reports that Judd Apatow's wife and actress Leslie Mann ("Funny People," "Knocked Up") has joined the cast, and they provide no other details other than her part is the lead female role which does answer some questions.

Despite a silly premise -- a married man (Bateman) switches bodies with his slacker best friend (Reynolds) -- the talent involved are clutch: "The Hangover" scribes Jon Lucas and Scott Moore wrote the screenplay and David Dobkin ("Wedding Crashers") directing. Wilde plays the married guy's law firm co-worker, who's an impetus for the body switch.

We assume Mann will play Bateman's wife, which stands to reason given the above logline. While Reynolds is juggling several projects -- the two aforementioned ones, plus "Safe House" with Denzel Washington, a buddy cop project with Bradley Cooper, and eventually, "Green Lantern 2" -- "The Change Up" will be next and shoots sometime this fall. Let's hope it's not as bad as "The Switch," which had a similar OK premise and decent talent involved, but turned out to be pretty generic, bland and safe.