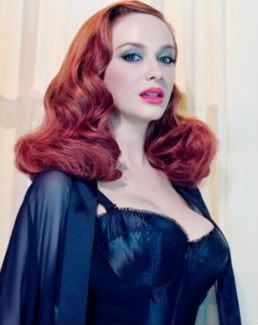 Considering her omnipresence in the media in support of the fourth season of "Mad Men," in which the actress plays the iconically curvy Joan Holloway, it's sort of surprising that Christina Hendricks hasn't made more of an impact in the movies. But all that's set to change soon: she's got a small role in the abysmal-looking Katherine Heigl vehicle "Life As We Know It," and parts in the indies "Leonie," alongside Emily Mortimer and "Detachment," with Adrien Brody, coming up, but, according to Variety, she's just signed on to one of our most anticipated films of 2011.

The actress has joined Nicolas Winding Refn's crime-thriller "Drive" as the latest addition to a ridiculously exciting cast toplined by Ryan Gosling and Carey Mulligan, with Albert Brooks, Oscar Isaac and "Breaking Bad" star Bryan Cranston also on board. The script, by Hossein Amini ("Shanghai," the upcoming Jack Ryan franchise reboot, "Moscow,"), follows a Hollywood stunt driver who becomes involved with the criminal activities of the boyfriend of his neighbor (Mulligan).

Although there's no official word on who Hendricks will play, a flip through the (extremely good) script reveals that the only major female role beside Mulligan's is Blanche, an associate of the boyfriend (who is presumably to be played by Isaac) involved in a bank heist, so, unless the script's undergone major reworking, we assume that this is the role that Hendricks is taking (and note, it's a fairly small one). It's an eclectic, tantalizing cast, and between that, the terrific, noirish script and the presence of Playlist favorite Winding Refn in the director's chair, this can't get here soon enough. And to think we almost had to suffer the Neil Marshall/Hugh Jackman version of this one... Filming kicks off September 25th.