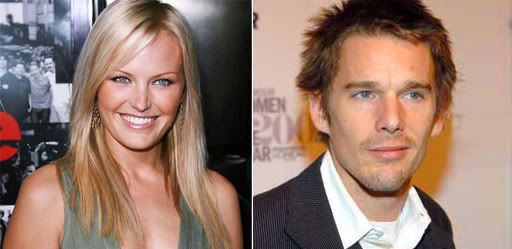 In April, Production Weekly reported that Ethan Hawke was in talks to star in "The Numbers Station," a "contained action thriller" from relatively unknown screenwriter Scott Frazier.

Variety now adds that Malin Akerman ("Watchmen," "Entourage") has joined the cast of what turns out to be a CIA thriller.

As reported in May Kasper Barfoed, known for Danish-language films "The Candidate" and "The Lost Treasure of the Knights Templar," signed on to direct. We've never seen the original, but Sam Worthington was once attached to star in a remake of 'Candidate' (presumably the Aussie actor has bigger tentpole fish to fry these days), but it makes us curious for Barfoed's talents.

Hawke is a producer on this one and like most pictures he's taken on of late, it will feature a modest $10 million dollar budget. According to the trade, Hawke will play "a disgraced black ops agent tasked with a dead-end job of protecting a young woman in the middle of the Nevada desert. When the two come under attack, they have to fight to stay alive" (honestly this sounds something like "The Bang Bang Club," which stars Akerman and Ryan Phillippe, and mark our words, will be mostly ignored next week when it premieres at TIFF 2010).

The picture will shoot in early 2011. Hawke has a slew of projects on the go. He recently wrapped on Pawel Pawlikowski's "The Woman In The Fifth" which he stars in alongside Kristin Scott Thomas, plus he has the indie-drama "Second Coming" with Marion Cotillard and Mark Ruffalo (which may or may not have shot earlier this spring/summer), Michael Almereyda's ensemble drama "Tonight At Noon," (who directed Hawke in 2000's "Hamlet") and Yaron Zilberman's indie-drama "A Late Quartet." He is also, of course, continually shooting the long-term Richard Linklater untitled childhood project which will see him and Patricia Arquette star as parents of a child (Ellar Salmon) filmed over the course of 12 real years.