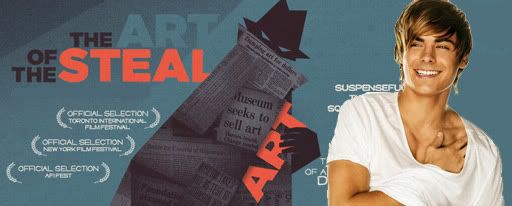 No, it's not a dramatic remake of Don Argott's excellent 2009 documentary, "The Art Of The Steal," which followed the struggle for control of Dr. Albert C. Barnes' $25 billion dollar collection of modern and post-impressionist art in Philadelphia (raise your hands if you've even heard of this; seek it out on DVD).

It's a completely different project that just borrows the title, though it's simply called, "Art of the Steal" and it's actually based on a 2010 WIRED article from March, about a con-man who plans and executes a series of elaborate heists, all while leading a double life as an upstanding citizen.

According to Variety, Max Borenstein has been hired to write the thriller for Warner Bros. which already has Zac Efron is already attached to star and the project is part of the young star's "grown-up" production banner Ninjas Runnin' Wild (yes, very adult company name).

Borenstein only has one active IMDB credit, he was the writer, director, cinematographer, and actor on the 2003 picture, "Swordswallowers and Thin Men," but he does have a couple of hot scripts in the works including the untitled Jimi Hendrix project set up at Legendary Pictures (which was on the Black List last year), "The Man from U.N.C.L.E." spy adaptation at Warner Bros., and the project "Rigged," a true life story about a kid who became a billionaire by changing the oil trading business, being shepherded by "The Social Network" co-producers Kevin Spacey and Dan Brunetti.

This definitely seems like a writer to keep an eye out for, and who knows, when this one is actually made, maybe Efron will finally be hitting his stride in adult roles.