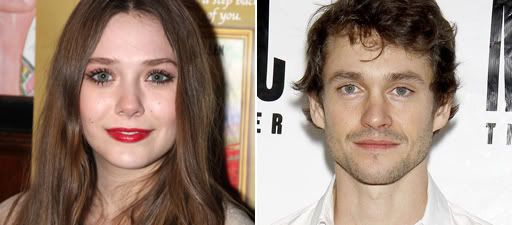 The cast is rounding out for the new indie film "Martha Marcy May Marlene," directed by Borderline Films member Sean Durkin.


Already settled in is Sarah Paulson, whom you may know from "Serenity," "Diggers," or from a few episodes of hit HBO show "Deadwood." You hopefully don't know her from "The Spirit." Joining her is none other than Elizabeth Olsen, who just wrapped on the Bruce Beresford (that's Mr. "Driving Miss Daisy") comedy "Peace, Love, & Misunderstanding." You might have also heard of her twin sisters.

The story, which was workshopped at the prestigious

Sundance Labs

, follows Olsen who is living with her sister Paulson after escaping a cult, as she is "haunted by painful memories and increasing paranoia" while trying to "reassimilate with her family." Paulson's husband will be played by Brit thespian Hugh Dancy.

John Hawkes

and

Brady Corbet

round out the cast.

The last Borderline Films production we saw was Antonio Campos's "Afterschool," which starred up-and-coming young'un Ezra Miller ("City Island," "We Need To Talk About Kevin"), and was about a disillusioned youth who witnesses (and accidentally films) a death caused by drug overdose. Described as "baby-Haneke," we didn't take to it much when we saw it at

NYFF

, saying it that it felt "rather cold and clinical at times." Despite its problems (such as the excruciatingly silly dialogue and ham-fisted acting direction), its influences were intriguing and the film hit some good notes every so often, showing potential for a good movie some day. It remains to be seen if "Martha Marcy May Marlene" will use the same visual aesthetic and approach, but hopefully Durkin is a little more reserved in his directing approach than his fellow producer.

Consider us interested; if handled properly the film could be an intriguing portrait of a troubled woman. Shooting is expected to start soon.