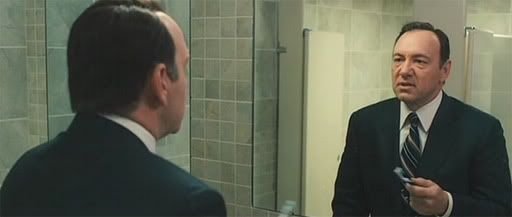 Hollywood seems to be taking dead aim at politicians this fall with two gritty documentaries, Charles Ferguson's "Inside Job" and Alex Gibney's "Client 9: The Rise And Fall Of Eliot Spitzer," on the way. Joining them will be George Hickenlooper's seemingly very broad drama/comedy "Casino Jack" about disgraced lobbyist Jack Abramoff.

We're still not sure what to make of this. The cast is of kind of all over the place with guys like Kevin Spacey and Barry Pepper rolling with Jon Lovitz and Kelly Preston, not to mention that director George Hickenlooper has been, generously speaking, uneven with his last two features, "Factory Girl" and "The Man From Elysian Fields."

The film is slated for a December release, though an exact date is yet to be nailed down. Full synopsis and trailer below. [FirstShowing or watch it in HD at Apple]

Two–time Academy Award Winner Kevin Spacey gives the performance of a lifetime in CASINO JACK, a riotous new film starring Spacey as a man hell bent on acquiring all that the good life has to offer. He plays in the same game as the highest of rollers and resorts to awe–inspiring levels of conning, scheming and fraudulent antics to get what he wants. Inspired by true events that are too over–the–top for even the wildest imaginations to conjure, CASINO JACK lays bare the wild excesses and escapades of Jack Abramoff. Aided by his business partner Michael Scanlon (Barry Pepper), Jack parlays his clout over some of the world's most powerful men with the goal of creating a personal empire of wealth and influence. When the two enlist a mob–connected buddy (Jon Lovitz) to help with one of their illegal schemes, they soon find themselves in over their heads, entrenched in a world of mafia assassins, murder and a scandal that spins so out of control that it makes worldwide headlines.