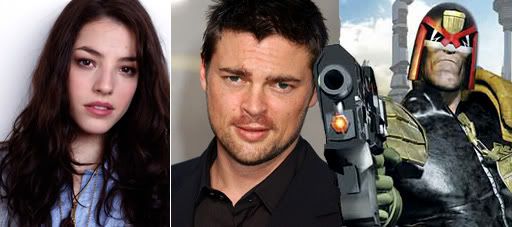 Why didn't Olivia Thrilby break out in 2008 and 2009 when she should have? Probably because she doesn't have Amber Heard conventional looks (ironically the girl who replaced her in "Pineapple Express"), but whatever, she's infinitely more interesting (not to mention a helluva better actress).

After a slogging it out in the indie circuit for a few years (excellent turns in "The Wackness," "Snow Angels" and "Solitary Man" to name a few), perhaps she's taking a shot at primetime? The actress has already joined Emile Hirsch in the alien invasion picture, "The Darkest Hour" (which is back up and running, btw after a recent shut-down due to wildfires in Russia) and now she's joined another non-indie picture, the reboot of "Judge Dredd" (which starred Sly Stallone in the mid '90s).

According to Variety, she's been cast as Cassandra Anderson, "a telepathic rookie who shadows Dredd." New Zealand-born actor Karl Urban (Dr. McCoy in the J.J. Abrams "Star Trek" reboot" and also known for key appearances in "The Lord of the Rings: The Return of the King" and "The Bourne Supremacy") has already been cast as Dredd. Alex Garland wrote the script and he's known for writing Danny Boyle's "Sunshine," "28 Days Later," and "The Beach" plus Mark Romanek's upcoming drama, "Never Let Me Go" -- a seriously impressive slate of films.

A script review we ran revealed that the screenplay was very dark and gritty with comparisons being drawn to "Die Hard" and "Blade Runner." Evidently the producers are going for a Hard-R rating and the film shoots in South Africa later this year with a modest $45 million dollar budget.