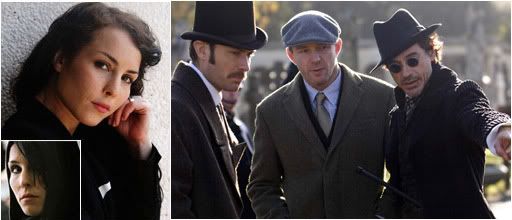 Looks like those high-profile Hollywood meetings Noomi Rapace took a few weeks ago have panned out. She's already reportedly lining up a gig alongside Jeremy Renner in "Hansel & Gretel: Witch Hunters" from director Tommy Wirkola (whose Nazi zombie horror comedy "Dead Snow," turned heads in 2009) and now she's landed another coveted gig.

The on-the-rise Swedish actress and original 'Girl With The Dragon Tattoo,' has landed the lead female role in Guy Ritchie's "Sherlock Holmes 2" opposite Robert Downey Jr. and Jude Law. Rapace was said to be taking meetings for a role in this film as well as many others (one potentially being "Mission Impossible 4"), but it appears talks with the British director and the sequel's producers went well.

According to THR, the production is still scheduled to shoot later this year. The logline is being kept under wraps, but Rapace is rumored to play a French gypsy, which makes sense since we already heard "Sherlock Holmes 2" will take the detectives across Europe. There's no word whether that role will be romantic in nature and the trade doesn't mention Rachel McAdams, but says "most of the original team is returning."

Further plot details are unknown though Holmes will face his nemesis Moriarty and his brother Mycroft will also make an appearance. Daniel Day-Lewis has been rumored for the role of Moriarty for some time now and we'll admit, we pissed our pants laughing when we first heard that and assumed there was no way in hell it was ever going to happen, but recent intel that has come our way suggests that DD-L taking the role is very possible. Keep an eye out to see whether it comes together.

Let's not forget, "Sherlock Holmes 2" is supposed to shoot in 3D and is already set for a December 16, 2011 release.