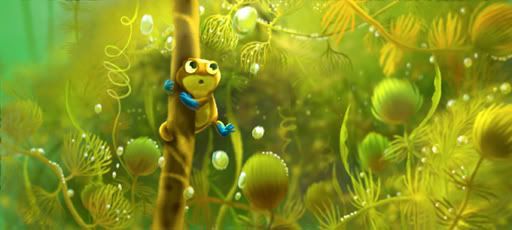 Back in February, reports surfaced of an insider scuttlebutt at Pixar that found production being canceled on "Newt," a romantic comedy about a pair of endangered amphibians, that was to have been the directorial debut of sound whiz Gary Rydstrom ("Terminator 2," "Minority Report").

Rydstrom had previously directed the charming Pixar short "Lifted" (about the alien abduction driver's ed), which was nominated for an Academy Award and while the plot of "Newt" sounded like it might have borrowed a little too heavily from Pixar's own "WALL*E," we're sure it would have ended up a unique and special experience.


Since February various sources have admitted to the shuttling of "Newt." Disney scheduled its feminist Viking fairy tale "Brave" (formerly "The Bear and the Bow") in the release calendar slot that "Newt" was to occupy, and announced another film ("Monsters, Inc. 2") for later that year. Dave Smith, Disney's chief archivist (who recently retired), admitted to a Disney fansite that it was kaput. But Disney/Pixar remained silent. Until yesterday, when they took to Facebook. And if there's one way you want an announcement to be totally under-reported, you do it on a Friday afternoon before a long weekend, after the week's news cycle has petered out, and you do it on Facebook, a place that is mostly used to check to see how fat your former classmates have become.

"As most of you already know," the post read, "'Newt' is no longer in development at Pixar. However, that doesn't mean we can't share some of the Pixar's amazing artwork with our Facebook fans!"


While the artists are never identified, some of the artwork is really striking; we get characters (including a two-headed snake and some kind of lizard that looks a little like Sidney Greenstreet) and locations (like Newt gripping the hood ornament of a car) that suggest a much larger world than the movie's logline led us to believe (most plot descriptions had the newts confined to a scientist's terrarium.) Definitely check out the gallery, and speculate away on why the movie collapsed. Maybe one day we'll get a definitive account of the behind-the-scenes machinations, like in the recently released "Tale As Old As Time," which is a wonderful look at the making of Disney's "Beauty & the Beast." It's certainly interesting to speculate about Pixar, a company that is known to work like a well-oiled machine, having such a tantalizing project collapse so publicly. [via Empire]