Slow down there tigers. David Fincher's "The Social Network" is an admirable piece of work, another outstanding piece of technical craftsmanship from the notoriously fastidious filmmaker, a tour de force of editing, a snap, crackle and pop of witty "His Girl Friday"-like tête-à-tête dialogue, and it does feature Jesse Eisenberg's best performance so far. Admittedly, there is a lot to love about the film, but those critics bemoaning the fact that it doesn't have a 100% rating on Rotten Tomatoes because of Armond White (that evil man, how could he!?) are being downright silly. The picture — like all movies — is not perfect (does a truly perfect movie even exist aside from a handful of unimpeachable classics?) and more importantly, it has its flaws.

Moreover, it's a film that has been doused in hyperbole. The film that defines a generation. Really? Why, because it features computers? It's well established that the film is not about Facebook and or social media or social networks. It's about — at the end of the day — friendship, greed, betrayal, entitlement, and to an extent, communication in the communication age. But how most of those themes only apply to this decade is puzzling (Peter Travers, care to explain?). Don't get it twisted, we liked the film (this writer's grade is more B, B+ than the A-grades it's been getting across the board, but whatever), but it's not god's gift to movies (though it certainly will have more long-tail resonance than the enjoyable, but slight, "Toy Story 3" which also almost had a 100% RT grade until Armond did his unspeakable dislike thing).

Oh, and don't let producers tell you that screenplays that leak online are just first drafts. While that's often the case, it's not always true, and Aaron Sorkin's script is proof; the version online and the finished film are almost word for word the same in dialogue and certainly in exact structure and sequence flow. Regardless, here's six issues and/or quibbles why the film is not "perfect."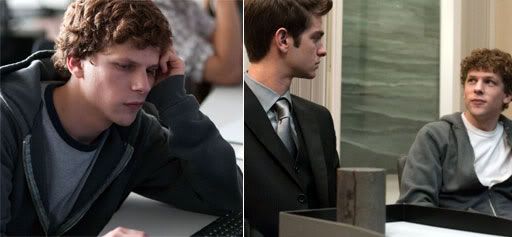 1. The under-developed relationship between Mark Zuckerberg (Jesse Eisenberg) and Eduardo Saverin (Andrew Garfield). While Justin Timberlake is an important part of the equation as entrepreneur Sean Parker, the film's nuts and bolts are about the dissolution of the Zuckerberg/Saverin relationship. And in a very Sorkin-esque/TV manner, the backstory of their friendship is done away with and implied. It's fully in swing when the film starts and when it eventually crumbles under the weight of underhanded maneuvers, potential betrayals, miscommunication and greed (though this is all subjective and the viewer is supposed to decide), there's no real sense that Saverin is Zuckerberg's "only friend" as Garfield states in the film. We're not asking for a hugging scene or a heart-to-heart, but something that developed their relationship a little deeper may have made the conclusion a bit more resonant. This under-developed friendship, in a way, is the Achilles heel to the picture; it zips by so enjoyably and with such thrilling zest you might not even realize until later.

2. Speaking of underdeveloped relationships, the girlfriends -- Erica (Rooney Mara) and Christy (Brenda Song) -- are given particularly short shrift. While Mark continues to pine for Erica after she dumps him in the first scene, we're never really shown that he cared for her or they had much of a relationship to begin with. As for Christy, her turn from casual sex Facebook groupie to the raving psychopath girlfriend of Eduardo is as random as it is puzzling and ultimately pointless. Her ultimate impact on the narrative or even Eduardo's brief arc is nil.

3. Fincher's tone is cold and aloof. While "The Social Network" is Fincher's most humanist film, that's still relative and he keeps the viewers at emotional arm's length. This speaks to the director's decision to not develop the friendship further or task the screenwriter to do the same (in a recent Vulture interview Fincher says the studio asked for something more between the two in the film's conclusion, but they ultimately decided to not add the scene).

4. The TV-ish-ness of it all. Yes, the editing is something thrilling, but the sometimes unimaginative cutting-back-and-forth structure in the middle of the film feels slack and TV-ish, as per Sorkin's standards. There's an episodic feel to Zuckerberg's adventures with Sean Parker sans Saverin and one could argue that "The Social Network," while a thrilling piece of drama, is nothing more than super entertaining two-hour tele-film. One created by one of the best technicians working in cinema today, but there's something about the episodic nature and structure that has little emotion and more importantly, little long-tail resonance. "The Social Network" is thrilling in the moment. A little later? Not so much.

5. It's "Law & Order" functioning at its highest level. Back to the TV argument again, but the script — which this writer didn't really care for — is essentially a court room drama played out in flashbacks. Pretty conventional stuff when you think about it.

6. A very small quibble, but the film's lack of interest in current Facebook predicaments — the sharing and profiting of people's personal profiles and Zuckerberg's antagonism towards the critics of this practice would have been some excellent drama or themes that are not utilized.

7. Also, hello? Not enough Winkelvi. Kidding. Sort of, though Armie Hammer as the Winklevoss twins is an outstanding scene-stealer.


Again, don't get it twisted. This isn't the contrarian critic point of view, more of just a keep your pants on fyi to the the critics who woke up passed out with their pants around their ankles and their underwear conspicuously missing when their reviews were completed (in a year of Oscar fives, this writer believes "The Social Network" would have a zero shot). As for the hate on Armond, well, pile on all you want, but he's right with this point (even though we too often don't always agree with him either), "[the] frat-boy mentality [is] in effect, no one else in cyberspace dares dissent from the hype." And it's true and unfortunate. Once that buzz ball starts rolling downhill, everyone wants to join and rarely does anyone care to hear otherwise.

Also? We could totally be wrong, but like Justin Timberlake recently said, this film could easily divide audiences. We suspect it'll do well, but it feels like a critics film to us, not one that the public is going to be totally receptive to afterwards. We could be wrong, time will tell. What seems to be clear though is that the raves and the curiosity bug has bit them. With little competition this weekend, "The Social Network" should easily nab the #1 slot, now it's just a matter of how well it does. Our guess is the $15-20million range, but maybe the Facebook appeal — there are 500 million users worldwide after all — could prove stronger. -- RP, Gabe Toro, Kevin Jagernauth