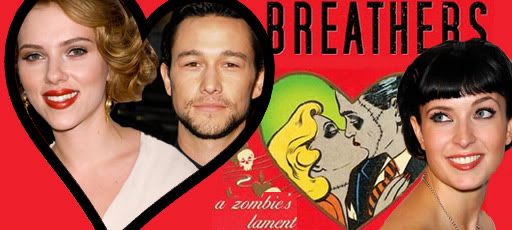 Last we heard from Diablo Cody, producer on the gestating "Breathers: A Zombie Lament," she said they "have a script and I am thrilled with it and hope we can go into production with it soon;" Fox Searchlight are backing the production. Well it appears things are continuing to slowly move forward.

Pajiba reports that the script, by Geoff LaTulippe ("Going The Distance"), is done and that Scarlett Johansson and Joseph Gordon-Levitt are "loosely attached" to the film. Yeah, it's pretty vague and probably means they are interested in the material, but there are probably a number of details that need to be ironed out before it becomes more solid.

Anyway, the story follows "Andy, a dead man who discovers himself newly re-animated as a mid-aged, decaying zombie who must figure out what it means to live as an Un-dead in a society that denies his kind basic rights" with Cody saying earlier this year, "I like to think it's about the personal side of being a zombie and being ostracized."

No word yet on a director, and though it does sound right in Cody's wheelhouse, the stain of "Jennifer's Body" may still be too strong for her to take the job. But not that things aren't rosy for the writer/producer whose "Young Adult" currently has Jason Reitman and Charlize Theron attached.