After the disappointing box office haul for Universal's "Scott and Pilgrim Vs. The World" (the film was budgeted at $60 million and is sitting at a little past $30 million after 6 weeks on release), the studio is hoping it will find new life on home video. The Facebook page for the film has confirmed it will hit DVD and Blu-Ray on November 9th, just in time for the start of the Christmas shopping season.

There are the usual extras (trailers and TV spots, production stills, trivia track, bloopers, music videos) but it's arriving in a few formats — BluRay Combo Pack, BluRay, DVD and digital download — and you'll need to get the BluRay Combo Pack to get all the bells and whistles.

Full details after the jump:

BONUS FEATURES EXCLUSIVELY AVAILABLE ON BLU-RAY™ COMBO PACK:

* INSIDER DOCUMENTARIES:
- Making of Scott Pilgrim vs. the World
- Music Featurette
- You Too Can Be Sex Bob-Omb

* ALTERNATE FOOTAGE: A special look at alternative edits to the film.
* PRE-PRODUCTION: A look inside the film's pre-production process including storyboards, pre-visualizations, animatics, motion capture tests, rehearsal footage, casting tapes, hair/make-up tests and more!
* THE MUSIC OF SCOTT PILGIRM VS. THE WORLD: This feature includes four complete music videos and video remixes from legendary DJ Osymyso.
* VISUAL EFFECTS: This feature takes a second look at the movie's inventive visual effects.
* SOUND WORK: A mini documentary about the creation of the film's super-powered sonic landscape.
* TRAILERS & TV SPOTS from the theatrical release of the film
* ADULT SWIM™: Scott Pilgrim vs. The Animation
* SCOTT PILGRIM VS THE CENSORS: TV safe version
* BEHIND-THE-SCENES PRODUCTION BLOGS from the set of Scott Pilgrim vs. the World by director /producer/ co-writer Edgar Wright.
- STORYBOARD PICTURE-IN-PICTURE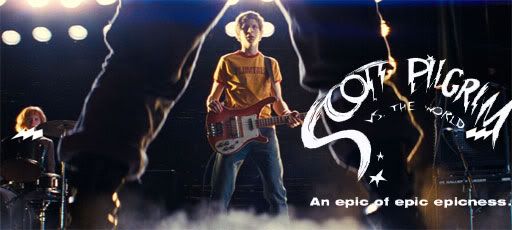 BONUS FEATURES AVAILABLE ON BLU-RAY™ AND DVD:

* DELETED AND ALTERNATE SCENES with commentary from director/producer/ co-writer Edgar Wright
* SCOTT PILGRIM VS. THE BLOOPERS
* FEATURE COMMENTARIES:

- Feature Commentary with director/producer/co-writer Edgar Wright, co-writer Michael Bacall and Author Bryan Lee O'Malley
- Technical Commentary with director/producer/co-writer Edgar Wright and director of photography Bill Pope
- Cast commentary with Michael Cera, Jason Schwartzman, Mary Elizabeth Winstead, Ellen Wong and Brandon Routh
- Cast commentary with Anna Kendrick, Aubrey Plaza, Kieran Culkin and Mark Webber

* BEHIND-THE-SCENES PHOTO GALLERIES including Edgar Wright's photo blog
* TRIVIA TRACK
* GALLERIES: Production photos, art galleries and marketing concepts.

Sounds like a healthy dose of material should please even the most diehard fans of the film. Here's hoping this Playlist favorite finds the audience it deserves on DVD.