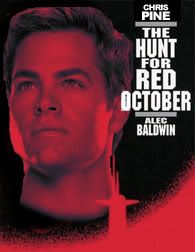 News has been coming in fits and starts for the gestating Jack Ryan film, "Moscow," starring Chris Pine. Last we heard, "Lost" director Jack Bender joined the project, taking the director's chair and a late 2010/early 2011 start was being eyed.

Heat Vision reports the film will get a rewrite, with "Sherlock Holmes" and "Invictus" scribe Anthony Peckham landing the gig. He will fine-tune and ready the previous script by Adam Cozad for the big screen.

Details on the plot are scarce, but as the (working) title suggests, "the story is set in Russia, with terrorist acts as a backdrop." No release date has been set, but it's most likely being readied for 2012.