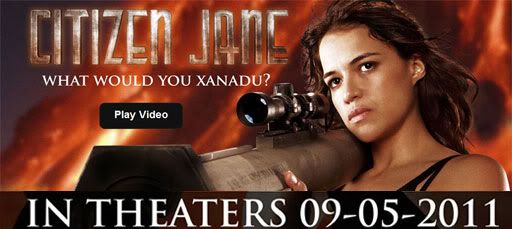 On Michelle Rodriguez's official website it states:

Always seeking opportunities to branch out and reveal her multifaceted layers, Michelle is currently developing her own projects as a writer and producer, charging forward to set a new standard for women in Hollywood. Fed up with typecasting and stereotypes and what she calls the "cage of frightened sharks" in Hollywood, Michelle is taking her future into her own hands, and doing it once again on her own terms.

So when we (and everyone else) ask what the hell is Michelle Rodriguez's "Citizen Jane," we suppose we have an answer, no?

Well, a website, poster and teaser trailer obviously shed light that it's a new, B-looking-movie that evidently is scheduled to hit theaters on September 5, 2011. Update: What is this? Apparently the "riddle" has been solved below. Here's the synopsis:

Citizen Jane stars Michelle Rodriguez as Charlotte Foster Jane, a lethal assassin hell bent on avenging the murder of her parents in this guns blazing, action packed retelling of Orson Welles 1941 classic, Citizen Kane. She will do anything for her Rosebud...
Look potentially silly? We point you to an interview we conducted with Rodriguez earlier this year at

Comic-Con 2010

regarding "

Battle: Los Angeles

," but the gist is that she doesn't give a flying f**k. "I could give two shits. I only wanna be someone I respect or someone that I consider interesting or fun. I'm here to entertain people and make a statement about female empowerment and strength and that's what I've done for the last 10 years, and people can call it typecast, but I pigeonholed myself and I put myself in that box for saying no to everything else that came on my plate. "

Btw, while the film apparently does feature

Danny Trejo, Jeff Fahey

and

Daryl Sabara

(all in "

Machete

"), no,

Robert Rodriguez

's

TroubleMaker

studios do not have anything to do with this (we asked).

It seems the first time the project was mentioned was in a press release issued by

Fantastic Fest

regarding her appearance there: a boxing fight with

Alamo Drafthouse

founder

Tim League

.

Updated

: Bleeding Cool did some digging around and says this is a fake trailer that appears in

Aaron Burns'

coming of age comedy "

Blacktino

." Sure, we buy that.

[via /Film]