There is nothing better than a perfectly guilt free teen comedy that begs to be watched on repeat, and "Easy A" lives up to the early buzz, and is definitely one we won't mind watching again soon. With a perfect cast, literate and witty dialogue coupled with a protagonist that you can't help but fall in love with, this modernized retelling of "The Scarlet Letter" is easily one of the best teen comedies to be released in the past ten years. But it is not perfect, and its flaws are sadly too big to secure it's place in the "Clueless"/"Mean Girls" Hall of Fame. While its flaws might be too major to ignore, the film is smart and successful with its dialogue, performances and firm grasp on the hell that is dealing with adolescence in high school.



"Easy A" would make anyone want to become the President of an Emma Stone fan club. She's perfect as Olive Penderghast, a non-nerd yet inconsequential whip smart high schooler, who creates a completely false image of herself when "confessing" to her best friend, Rhiannon (Aly Michalka) in a ladies bathroom at school, that she lost her virginity with a college freshman. Gasp! Her story is overheard by the school's version of Sarah Palin, Marianne, hysterically played by Amanda Bynes, and within minutes she is THE topic of conversation at Ojai High School. Olive goes from being unknown to infamous in mere minutes, thanks to the virtual highways that have corroded the once beautiful art of rumors in schools nowadays. But does she want to be known for this? This is the problem that Olive battles throughout the film, which isn't completely out of left field for a teen girl. And we watch her progression into high school infamy and alleged promiscuity as she recounts the tale via her v-log, which seems to be the only place where she is comfortable unleashing the truth about herself.

Olive begins to evolve and destruct in teen time -- over the course of a week -- into something she never expected to be. A whore. But she decides to put her new identifier to good use and help out another socially anonymous friend, Brandon (Dan Byrd), who only gets attention -- and picked on -- when the topic of his sexuality (he's gay) is brought up. Even though its 2010, the school seems stuck ideologically, so when Brandon asks Olive to help his rep by publicly pretending to have had sex with him, she sympathizes with his situation and agrees. So, at a big house party of the weekend, the two have big, loud, awkward and very fake sex which changes both of their reputations. While Brandon finally gets the props from his male classmates he was hoping for, what Olive wasn't planning on was the fallout of geeks in need of her help after they hear about what she has done for Brandon, and soon she is accepting $20 coupons for Bath and Body Works for pretending to go to second base with losers from today's version of the AV club.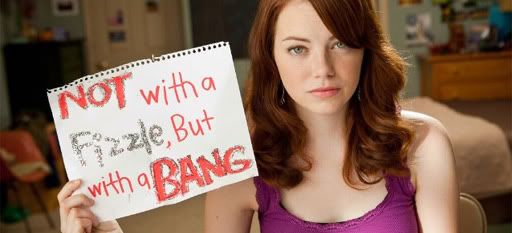 The result is that Olive is alone, shunned (even by her bestie Rhiannon), and her perfect, loving relationship with her almost too hip parents, played by the always great Stanley Tucci and Patricia Clarkson (who both get some of the biggest laughs of the film), begins to suffer when she can't fully confide in them with what's going on in her all-of-a-sudden confusing life. Olive can only find solace in 'The Scarlet Letter' which she is reading in her English class. And being the rebel she is decides to embrace her newfound slut image, by dressing the part. Going full force, she seems to have caught a sale at the Forever 21 version of Frederick's of Hollywood and hand sews an A on each lingerie garment to play up the hype. And this is where the film loses its edge a bit. While it makes sense for Olive to want to test the waters and poke fun at her new position in high school, it seems unbelievable that someone who is so utterly uncomfortable in her skin would have no issues walking around high school like a Playboy centerfold.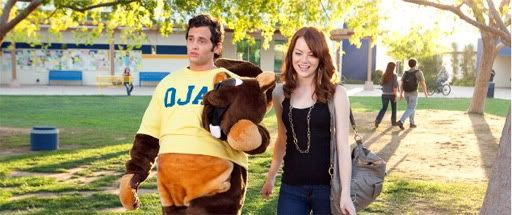 This complete 180 reversal of image and beliefs is too much for her parents, friends and even teachers to handle. and everyone wants to save her from going over the edge. It seems the only person that isn't completely freaked out by Olive is her long time crush and all around great guy, Woodchuck Todd (Penn Badgley). The school mascot, who works a crappy restaurant job and is friends with everyone in school, knows the 'real' Olive and wouldn't dare let these bizarre rumors tarnish her in his eyes. At one point in the film Olive says in her vlog, "For once, I want my life to be like an 80's movie, but no, John Hughes didn't direct my life." Truer words really haven't been spoken in a teen flick and "Easy A" lovingly pays homage to the beloved king of suburban teen melodrama.

In the similar vein of Hughes' -- and even Cameron Crowe's -- strong female leads, this movie is not about Olive finding love, it's about finding herself. It showcases the easy dismissal of people and ideals you have when you are 16 years old, and still maturing. And most importantly it does this with a whip smart character who just wants to know what it's like to be known and talked about just for being herself. In the digital age we live in, teens are confronted with imagery that most of us can't even imagine, and it's a badge of honor to come out of high school nowadays unscathed with a digital account of your mistakes. Stone has all the makings of becoming America's Redheaded Sweetheart, and this film will help her put together her army of teen fans and Badgley has just cemented himself in the long line of adorable rom-com imaginary boyfriends, like Paul Rudd and Mark Ruffalo. Withstanding the hokey musical number which will make you cringe, the near amnesia of the entire school in believing this quiet nobody has become Paris Hilton overnight and the odd comfort Olive has in her new persona, "Easy A" is a top notch comedy, with something for everyone. A quirky homage to the perfect teen comedies of the 1980s thrust into the digital world, "Easy A" makes the grade. [A-]