Taut, well-crafted and crackling with intensity, Australian filmmaker Michael Henry's directorial debut, the revenge thriller "Blame," is a lean, terrific and admirable first feature-length effort.

Something must be in the water down under. The Aussies have a bumper crop of talent pouring out of their country in recent years (Sam Worthington, Abbie Cornish, Chris Hemsworth, Emily Browning, Rose Byrne, Emilie de Ravin, Teresa Palmer are just some of the more recent names that aren't the already-recognized Cate Blanchett, Eric Bana, Heath Ledger, Hugh Jackman and Russell Crowe) and "Blame" features a who's who of up-and-coming Australian talent.

For North American context, the thriller might be best known for almost convincing David Fincher to cast its exceptional lead Sophie Lowe, as his "The Girl With The Dragon Tattoo" star (she was part of the final four casting choices for the coveted role).


Economic, employing a keen, observational eye and an assured technician's meticulousness, "Blame" starts off with a shock. In a remote part of Australia, a middle-age piano teacher comes home only to be attacked in an unprovoked home invasion by five teenagers wearing balaclavas. The moment of the strike comes out of nowhere, yet the filmmaker does a fantastic job with subtle framing and ominously silent tracking shots to deliver a portentous air. A wordless, visceral and adrenaline-fueled struggle ensues, complete with a chase, and then finally a violent, physical capture and the picture fades to black. This is "Blame," and it has announced itself with an electric opening; the kind of intro that gets you noticed, but isn't showy enough to be deemed annoying.

The teenagers tie the older man to a chair and force him to swallow an excess of sleeping pills and then the motivations or at least, the desired outcome of the attack becomes clear: they're simply trying to kill this man. Drugged and left for dead, the kids coolly wipe for fingerprints, leave a suicide note and clinically make their escape. It feels like a perfectly executed crime (and cinematically, it's near perfection too), but it turns out it's actually not well thought-out at all.

And teenagers — while this group is cocky, intrepid and deliberate in their every move — are also hasty, careless and fueled with the brashness of passion. In crimes like these, one little mistake can cost everything and in "Blame," a series of little miscalculations adds up to a botched and eventually tragic outcome. The players are: Bernard the teacher (Damian de Montemas from Australia's extremely popular medical drama, "All Saints," which almost every actor here did at least an appearance on), the quietly calculating Natalie (Sophie Lowe), her mournful and regretful friend Cate (Kestie Morassi from "Wolf Creek"), Natalie's ineffectual and dimwitted boyfriend Anthony (Ashley Zukerman, HBO's "The Pacific") the grieving and volatile leader Nick (Simon Stone) and the brooding John, who wants nothing to do with this crime, but is eventually forced to take charge (Mark Leonard Winter).

Cleverly, information is revealed slowly, organically and in little pieces, and by time the crime is completed, the motivations slowly take focus. These kids are coming home from a funeral and this murder has been induced by revenge. On their way home, Anthony realizes he's left his phone at the scene of the crime and the outraged and agitated friends realize they have only one option: return quickly, remove this last bit of evidence and leave. Yet when they arrive Anthony is shocked to find Bernard is nowhere to be found. Panicked, the group frantically runs around the grounds of the isolated home and Natalie — who the teacher recognizes despite her mask, the plot thickens — finds the man in the basement, groggy and half-awake; he's been given a strong dose of children's sleeping pills and soon the group is venomously spitting out accusations and condemnations at one another. While still opaque this much of the grim motivation is clear; one of the group's friends (Saskia Lampele) has died because of a sexual betrayal committed by the professor and this group of young vigilantes feel it's their moral imperative to somehow kill this man.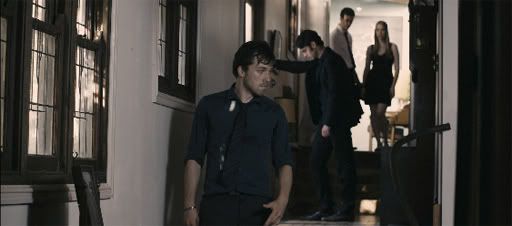 As every little mistake adds to another layer of complication the film's quiet intensity simmers and begins to boil, and then eventually overflows. The tensions mount, the internal struggles only cause more fissures and blame and the group unravels in dread-soaked sweat. It all peaks in a terrific confluence of fearful, misguided retribution, tearful betrayals and choked animosity that is expertly accomplished with precision and cool attention. Making matters worse, when the real truth starts to be unveiled the group find themselves on the dark and ugly side of a justice they cannot face.

And wisely, while the picture is solemn, it's not humorless or un-self-aware, and it knows when to create tension-breaking laughs at the mounting errors the group pathetically keeps committing. If there's one key complaint to be found it's that the core story of "Blame" feels slight and like it's been told several times before and there is an air of familiarity throughout. That said, writer/director Michael Henry's tale may not be wholly new, but it isn't derivative either and for the most part is a fresh and invigorating take on this type of thriller. In any case, the picture's strengths are its craft, exemplary performances, the clever script and the way information is slowly and deliberately delivered. Utilizing a fantastic score by Tamil Rogeon, and strong cinematography, there's a lot of detail here worth enjoying.

While "Blame" may not set the same kind of white-hot conflagration in Hollywood as some other recent international hits ("Snabba Cash" comes to mind), it does signal the arrival of a precociously mature and disciplined feature film director who Hollywood will likely soon take notice of and who will likely continue to deliver engaging pieces of cinema regardless. [B] The rather gripping trailer below.