Ok, you've just read our first take on Kelly Reichardt's pioneer-era set Western, "Meek's Cutoff" but here's a slightly more positive take on the material (you can read more background and story context in the other post).

While our first review is hardly negative, and there are no major disagreements, this writer takes slight umbrage with the word "inert" to describe the film. Yes, "Meek's Cutoff" is slow, perhaps even dull at first — especially in its first 25 minutes — but upon the arrival of the American Indian character who may lead these dying-of-thirst immigrants to water, the film crackles to life, albeit more like a slowburning ember finally catching rather than any bigger pyrotechnics. It's may never burn very brightly, but creates a similarly hypnotic effect to that of staring at low, flickering flames.

"Meek's Cutoff" isn't as engrossing as Reichardt's "Old Joy" nor does it feature a tour de force performance like Michelle Williams' devastating turn in the filmmaker's "Wendy & Lucy," but as a somewhat haunting meditation on the West, with its enigmatic Indian American character and focus on the crueller aspects of nature, it's certainly not without value. And the standout performance in the film does not come from Williams, Paul Dano, Zoe Kazan or even the always-excellent Will Patton (who Reichardt has used twice now), but instead from Bruce Greenwood as the titular Stephen Meek, a brash, Cheney-like frontiersman who despises the Indian and treats him as a suspect criminal they must eventually terminate. The director's fourth feature-length film may be bereft of traditional forward momentum, but all of her work has tended to buck the conventions of narrative in favour of low-lit explorations of various human beings; she rarely deals in orthodox stories that move from point A to B. So taken as, say, Gus Van Sant's "Gerry" in the West, one can hopefully see the value in a similarly meditative approach (though obviously, that film ain't for everyone either).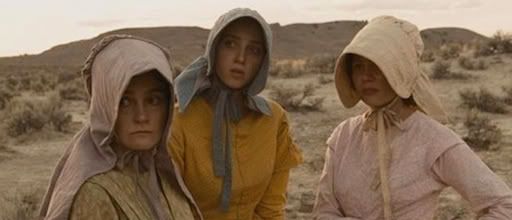 Nothing really "happens" in her pictures and that's exactly the way Reichardt likes it. These are observational films with lots of open spaces for the audience's minds to linger and immerse themselves in and yet, while still modest, this is also her most ambitious work. Jeff Grace's haunting and sparse score is also quite good and adds another layer of foreboding to the proceedings — which are naturally left unfulfilled; the film also boasts an ambiguous ending almost on a par with the last two Coen Brothers movies, so there's that too (no doubt it's a conclusion that will infuriate some).Oh, and lastly, by the look of these photos, you'd think the very micro-budgeted Western looks like shit, but it is immaculately photographed, the best-looking Reichardt picture to date and the cinematography is Oscar-worthy despite its refusal to depict any kind of glowing, panoramic desert vistas. The old school aspect ratio is also a great choice. [B]