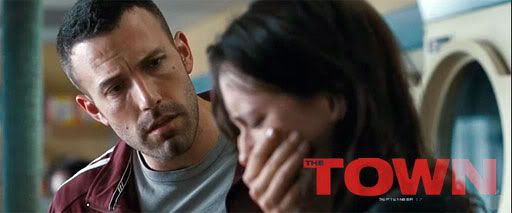 Ben Affleck returns to the gritty streets of Boston for his sophomore directorial feature "The Town" and once again he paints an intimate portrait of the working class, in this case, operating outside the law, struggling to escape their past and trying to outrun their inevitable future.

Not content to merely sit behind the camera, Affleck also takes on the lead role of Douglas MacRay, a resident of Charlestown, which as you probably know from the trailers -- and are informed by the opening text of the film -- boasts the largest number of bank robbers/robberies in the world. Doug leads a ragtag crew who are responsible for a string of heists in Boston and as the film opens they just starting another job. Organized and methodical, they make quick work of security and have every detail and angle covered, but make one crucial mistake. They take a hostage. Claire (Rebecca Hall) goes along for the ride to be used as a bargaining chip should it come to negotiations. But, once they are free and clear of the cops they let her go in another part of town -- blindfolded and cuffed -- and make their way back to the safe house. Later, reviewing the job, they look at her driver's license they took from her purse and there's a problem. She's from Charlestown. Worse, she only lives a few blocks from where Doug and his crew roll. James (Jeremy Renner) is concerned, but he's also a loose cannon, so Doug takes it upon himself to get close to her, find out what she knows and hopefully steer her away from the Feds who are eager to put them away. Adding to his burden, he's trying to find his own salvation and leave the life for good.


If you think we've given way too much, don't worry, as that's about the first half hour of the film. Based on the novel by Chuck Hogan, the film sprawls out subtly, detailing the complicated family tree that connects these characters not only to their town but to their lives. As FBI agent Dino Ciampa (Titus Welliver) notes, "You need a fucking Venn diagram for these people." But if the material is a little rote -- we've seen the "honest crook tries to go straight" film too many times to count -- the film is bolstered by strong performances across the board and a bit more surprisingly, some thrillingly staged action sequences.

It probably doesn't need to be said that Renner shines as the slightly unhinged Jem, a man willing to do almost anything to avoid another spell in jail. Again, another stock character, but Renner is great fun to watch and finds some dimension to his role. Jon Hamm essentially upgrades Don Draper into the FBI, but he is solid here as Adam Frawley, an agent itching to nail the bank job crew. Pete Postlethwaite is chilling as Fergie, the Charlestown godfather of sorts who lords over the neighborhood and sets up the jobs. Even Blake Lively puts in a good turn as Krista, Doug's longtime ex and drug user; she reveals a tender heart beating beneath a push up bra and makeup.

Affleck handles the script very well, slowly setting up the pieces of the plot and even as we see it coming, keeping the anticipation fresh as we watch these characters pinwheel against each other as each new twist arises. The story is built around three heist sequences, indicating marker posts for the beginning, middle and end of the film, and they are worked through with a deft hand with Affleck raising pulses here with well-earned tension and well-executed action. The second heist of the film is marked by a riptide car chase through the narrow intertwining back-streets of Boston while the grand finale job at Fenway Park finds the director easily maneuvering the gang, the cops and the FBI through the complicated set-up without ever losing track of the stakes to be gained or lost. In short, the film finds Affleck broadening his palette while sticking to territory that had already served him well in "Gone Baby Gone."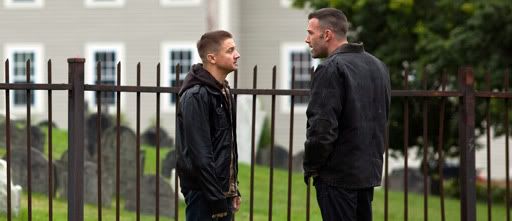 While there were some complaints that the trailer gives away too much, after viewing the film, those looking forward to watching it shouldn't be too worried. One scene in particular that was pointed as possibly being spoiler-heavy isn't even in the film, and as for the rest, it's the kind of stuff you probably would've seen coming anyway. It's really a case of a marketing team putting the flashy scenes into their trailer, but don't be fooled. Roiling underneath the surface of what is, in essence, a very solid genre flick by Ben Affleck -- and another strong outing for him as a director -- is another tale of the complex familial bonds that make Boston both home and prison to the residents who make a less-than-honest living. No, it's not going to win or contend for any Oscars despite what some have said (ok, maybe Renner), but if there was any doubt before, Affleck has fully confirmed his talents behind the camera and earned his title of Director without the "Actor/" needing to appear to justify his work. [B+]