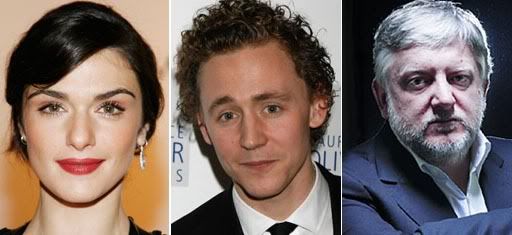 Our enthusiasm for "The Deep Blue Sea," the return of terminally underrated British director Terrence Davies, and his adaptation of Terrence Rattigan's 20th century drama classic, hasn't exactly been a secret since it was announced. The prospect of the film itself was exciting enough, but once Rachel Weisz was attached to the lead character, Hester Collyer, the suicidal wife of judge in 1950s Britain, locked in a destructive affair with a former RAF pilot, we knew this would be one of our most anticipated films of 2011.

Now, according to Baz Bamigboye at the Daily Mail, Weisz has two terrific actors joining her; Tom Hiddleston, soon to be seen as Loki in "Thor," will play Freddie Page, her younger lover, while stage veteran Simon Russell Beale will play her estranged husband. It's the latest high-profile role for Hiddleston: besides "Thor," and possibly "The Avengers," he's also got roles in Steven Spielberg's "War Horse" and Woody Allen's "Midnight in Paris" coming up next year.

But it's Russell Beale that we're really excited about here. A legend in the theatre world, called by some "the greatest stage actor of his generation" (he's probably best known in the States for appearing on Broadway in "Spamalot," and for Sam Mendes' "The Cherry Orchard" and "A Winter's Tale"), Beale very rarely appears on film -- the last time being the forgotten 2002 Christina Ricci chiller "The Gathering." But he's just kicked off a recurring role on the BBC show "Spooks," and it's reminded us of how compelling a presence on screen he can be.

Filming kicks off in November, with Weisz squeezing it in between several other projects -- presumably including the untitled Terrence Malick film currently underway, and Fernando Mereilles' "360" (and Jesus, what a line up of projects.) But it's clear why Weisz made the effort, and Davies says that she was his first and only choice, recalling the first time he saw her, in Beeban Kidron's "Swept From The Sea;" "I fell off the sofa when I saw her. She has the kind of luminosity that will last till she's 90. When producer Sean O'Connor suggested we do "The Deep Blue Sea," I said: "Offer it to her!" The film should open this time next year, just in time for the awards season, and we've got to assume at this point that it'll be a major contender.