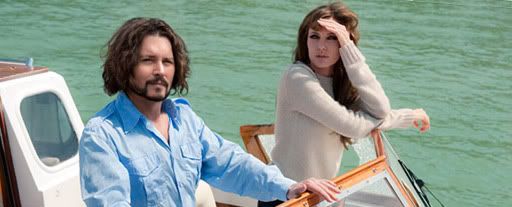 Call it the rom-com version of "Salt," but the trailer for "The Tourist" has arrived and it looks like it could be a pleasantly diverting piece of holiday season fare.

Directed by Florian Henckel Von Donnersmarck (the German helmer behind "The Lives Of Others"), "The Tourist" is a romantic spy drama based on the 2005 French film "Anthony Zimmer," that follows a bumbling American tourist (Depp) as he finds himself romantically involved with an international spy (Jolie) in this quasi-Hitchcockian tale of a man in the wrong place at the wrong time.

Yeah, we have our quibbles with the film (the biggest one being the ridiculous accent Jolie is wearing), but it's really nice to see Depp shifting gears here as a man trying to play catch-up to a situation that seems to be outpacing him five steps at a time.

The film co-stars Timothy Dalton, Steven Berkoff, Paul Bettany and Rufus Sewell and hits theaters December 10.