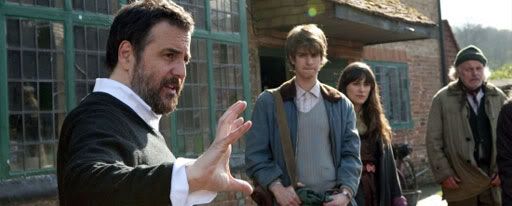 Our EIC noted a few years back when Mark Romanek joined the illustrious Director's Label Series alongside nu-cinema upstarts Spike Jonze, Michel Gondry and Chris Cunningham that the music video director had won a "whopping 20 Moonmen, plus the only MTV Video Vanguard Award ever given to a director independent of any specific artist." Not even David Fincher and Paul Hunter who made their names on iconic music videos before they transferred over to feature filmmaking could boast those stats and yet, in most cinephile circles, Romanek isn't quite as well known or revered as Fincher, Jonze and Gondry.

Part of the reason is output. Between 2002's "One Hour Photo" and 2010's already critically acclaimed "Never Let Me Go" (review later today), Romanek has made zero feature films. Essentially, there's been an eight year gap. What happened? One could say the industry happened to him. Romanek almost did a film with Tom Hanks and then almost helmed a very recent one with Benicio del Toro ("The Wolf Man"). And in a very recent interview with /Film from Telluride, he essentially explained all his industry bad luck rather succinctly, yet without any shortcuts. It's an interesting read if you, like us, enjoy his work, are expecting (hoping?) that "Never Let Me Go" finally fulfills the promise of his visually stunning music video work (we're one of the "genre"-based sites that didn't seem to really care for "One Hour Photo"), and or are wondering where he's been all this time. Read on to see what happened.

Well, I had a weird string of good/bad luck. I say good/bad luck because it was bad luck in the sense that I got involved in all these really great projects that sort of hit brick walls for very odd, unpredictable reasons. But I say good luck because I learned a lot. And, most importantly, I got married and had two beautiful children. So I have this life, that's far more precious and rich and fulfilling than making movies, which I love. And so, had the professional side not been problematic, I don't know that things would have worked out that way. So, again, I don't have a lot of regrets about it. In the moment, there was a lot of frustration.

I was deep into pre-production on a film with Tom Hanks called "A Cold Case" which is based on this stunningly great book by Philip Gourevitch who's a writer for "New Yorker" and has written several non-fiction books. I highly recommend that book. We had issues with the life rights at the last minute that torpedoed that project which was crushing to me. I kind of curled up into a fetal position for six weeks because I was so disappointed.

Then I got involved in [James Frey's notoriously fictionalized memoir] "A Million Little Pieces" and I was deep in pre-production on that. I was scouting locations. We were going to shoot it in Milwaukee. And I got a phone call, "Have you seen the Smoking Gun?" I was standing in a ditch near a river in Milwaukee and I got a phone call, "Have you seen the Smoking Gun?" And I go, "No, what?" So when that book was revealed to be somehow fraudulent, that was torpedoed.
Ouch. Then of course there was "The Wolf Man," which Joe Johnston brought to the screen earlier this year in a severely compromised form, but Romanek said what was on screen was pretty much exactly what the filmmakers wanted. It seems like his exiting of the project was a very smart move on his part. Never make a movie when you're constantly battling your producers (David Fincher will attest this from "Aliens 3" for example).

And then I got involved in The Wolfman which was exciting because I was going to work with Benicio Del Toro. And I wanted to reinvent that genre and make this dark, rich, intelligent Jungian kind of piece that I was hoping could totally work as populist entertainment and yet be legitimate, like be an intelligent film that might even be critically well-received. And I just could never get on the same page with the producers about what it should be. I think they were scared of doing it the way I was suggesting. There was so much money involved that I ultimately couldn't convince them of my idea of the film. That was really exacerbated by the writers' strike and some serious budget problems, that I thought between all of those things were insurmountable. And by then I had lost my passion for it because the film they wanted was just not something I was that interested in anymore. But I hung in there. Because I had had these other disappointments, I didn't want this one to go away. So I hung in and hung in and hung in and tried to make it work until it was literally three weeks before shooting. And I said, "Guys, I think you should find someone else that can fulfill your vision of it because there's a lot of money involved." And it wasn't actually that acrimonious. It was kind of a mutual thing. It's like, "I think it might be best for you to find someone who's more invested in your idea of the film." So that was pretty much that.

[in part 2 of /Film's interview Romanek says he saw the final product, doesn't badmouth it, but says, "The rhythms of it, and the way that it was shot and lit, and the way that it moved along, and what was emphasized and what was de-emphasized was exactly, I think, what the producers wanted it to be." Read into that how you will]

And then, you know, with getting married and having two children that was the eight years. And I wrote two screenplays too in that time.
Two screenplays you say? We hope he eventually brings those to the screen as well (note neither seem to be "The Voices" or "In Deep" which are both credited to other writers on IMDB pro). Critics seem to be somewhat divided on "Never Let Me Go," but this writer will say his expectations are very high (but not unreasonably so). Our man in the field in Toronto will let us know his opinion soon enough. "Never Let Me Go" hits theaters in limited release on Wednesday, September 15.