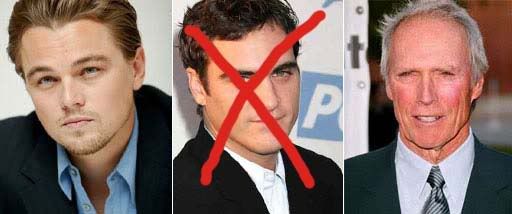 It looks like Joaquin Phoenix's return to the big screen following his elaborate career sabotage hoax won't be in Clint Eastwood's forthcoming biopic "Hoover."

Reports surfaced last month that the director wanted Joaquin Phoenix to join the film in the role of Clyde Tolson, Hoover's "gay lover." But maybe someone should've asked Eastwood himself. Speaking to Reuters Eastwood quashed the rumors saying, "No. I don't know where that came from...didn't he become a rapper?" Hmm...maybe someone needs to send a screener of "I'm Still Here" over to the Eastwood estate.

Moreover -- and as our earlier read of the script revealed -- Hoover's gay life isn't of much interest to the director. "He was a very complex person. The homosexual aspect is just one of many. I would say that's the least of his problems. But he was also very clever, whether rightfully or wrongfully, he was very clever about keeping himself in a certain position in life, so it is an interesting study," Eastwood said. Dustin Lance Black's script is actually quite subtle in the treatment of homosexuality in the film and is not a central focus to the film. While their relationship is key, and the attraction between the two is there, the actual depiction of it is actually quite understated.

As for Leonardo DiCaprio, long linked to the lead role, it looks like the wheels are in motion. Eastwood says that contracts are "in the process" of being signed by the actor. So it looks like at least the biggest piece of the casting puzzle remains intact, but just don't expect DiCaprio to be borrowing Bar Refaeli's heels for the film.