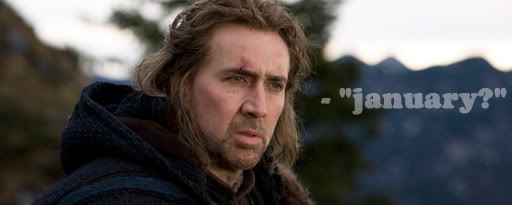 You're dying to know. So what happened to the Nicolas Cage supernatural adventure vehicle "Season Of The Witch"?

Well, all's been quiet on that front for months. In February, Lionsgate pulled the film from its innocuous March 19, 2010 release date and there hasn't really been a peep since. Well, until now. Variety reports the film has been bumped to a dumping ground season of January 7, 2011. As discussed today by the LAT, January isn't always the season where bad films go to die (see their collection of stats and recent money-makers like "Book of Eli" and "Cloverfield"). It's true. It just mostly is that season.

Directed by Dominic Sena (who directed Cage in "Gone In Sixty Seconds" and also helmed "Swordfish" which starred Halle Berry's bare breasts), the film centers on a pair of medieval knights ordered to accompany a mysterious young woman accused of witchcraft to a remote abbey for trial. The journey will test their strength and courage as they discover the secret of the woman's power and find themselves fighting a battle of biblical proportions. The picture stars Cage, Ron Perlman, newcomer Claire Foy (the female in question), Robert Sheehan and Christopher Lee. Tellingly, the studio hasn't even bothered post-converting it into 3D to make some extra bucks. Here's the trailer below which was released months ago.