Last night we were invited to attend the Disney Holiday Showcase, in which they showed an unfinished work print of upcoming animated movie "Tangled" (which we're prevented from actually reviewing but can say was very, very good and a surefire contender for the Best Animated Feature Oscar), as well as almost a half hour of footage from their highly anticipated sequel/re-imagining "Tron: Legacy."

We were first shown a collection of whole scenes, many of them elaborations on things that have been in the movie's eye-popping trailers: our hero Sam (Garrett Hedlund) being given the keys to his dad's arcade by his father's assistant Alan (Bruce Boxleitner); Sam entering the arcade and finding a secret passageway to his father's workstation (scored surprisingly well by Journey's "Separate Ways" - the "only piece of source music in the film," according to one of the guys from Disney); and some initial misadventures in the computer world, including a tense sequence where he's abducted by this big flying ship and dropped into a gladiatorial game. The Tron-world sequences were startling in how dark the universe appears to be, with lots of atmospheric embellishments like steam and rain and lightning crackling in the distance, which reminded us more of the rougher, handmade world of "Blade Runner" than some slickly realized videogame universe. Of course, there was some super-slick stuff too, as evidenced by the somewhat campy way in which a squad of fem-bots outfit our hero in the iconic, light-rimmed costume, and the breathless initial disc match. It should be said that we didn't see the sequences in 3D, but the way that first-time director Joseph Kosinksi moved the camera through the virtual space was more than a little jaw-dropping, free of any of the kind of zoomy, you-are-there gimmickry usually associated with 3D movies.


The set of scenes concluded with Sam's visit to his exiled father Flynn's compound, outside of the Tron-city (we're not sure what it's called). Flynn (grizzled Jeff Bridges) was sitting, Zen-like, while rain drifted upwards (a trippy visual flourish), in an apartment that reminded us of the cover of the Air album 10,000 HZ Legend. What was so striking about this last sequence wasn't how cool it looked, because, it looked really fucking cool (the floor of the apartment lit up like the "Billy Jean" video), but how emotionally rich the scene was, with both Bridges and Hedlund contributing some fine performances.

After these mostly-whole sequences, we saw a five minute sizzle reel that began with, of all things, a bit of the Daft Punk cameo that has been alluded to before. In that bit, Michael Sheen, dressed up like David Bowie (complete with shimmery white wig), turns to the duo (in full robot getup) and says something like "How about you play something with a bit more pep?" After which, of course, some thunderous Daft Punk music kicked in (music from the previous trailers) and a barrage of slick images flashed across the screen. It was then that our interest, previously just simmering anticipation, turned into full-on, goose-fleshy OMG excitement. To give away these images would be to rob some of the fun, and Disney would probably get mad at us anyway, but as the reel concluded, we were convinced of the sheer visual force that "Tron Legacy" is likely to provide.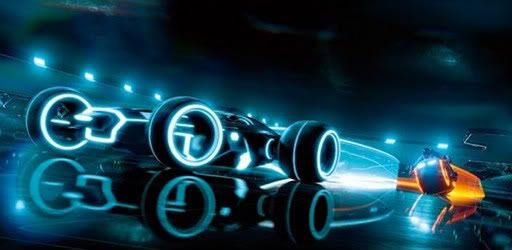 And, yes, the sequences we saw were scored to some new Daft Punk music. What struck us most about the music was that it was way more traditional and orchestral than we were expecting; it's fully big, sweeping, emotionally-resonant movie music, sprinkled with electronic flourishes. This isn't a bad thing. Just not exactly what we were expecting. And we imagine that the more Daft Punk-y music will present itself in the scenes with Michael Sheen, who plays a Tron-world club impresario, and more of the full-bodied action sequences, which we were only shown pieces of.

So, all in all, the "Tron Legacy" footage was beyond cool. What remains to be seen is if the film will surpass simple gee-whiz theatricality and strike an emotional chord with audiences. From what we could tell, particularly in the scene between father and son, there's a good possibility of that happening. But for now, we're content to ogle all the pretty visuals.