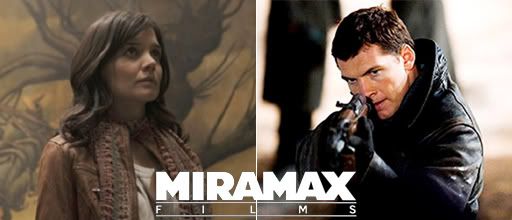 Miramax Films' lengthy, drawn out buy-out process has now affected its upcoming slate with two of its films withdrawn from their winter releases.

John Madden's part-thriller, part romantic drama, "The Debt," and Troy Nixey's Guillermo Del Toro-produced "Don't Be Afraid Of The Dark" were scheduled to hit theaters on December 29th and January 21st respectively but have now been postponed until Miramax's new owners — construction magnate Ron Tutor and Tom Barrack's Santa Monica-based Colony Capital — put together their new shingle, Filmyard.

The deal won't reportedly be completed until the year's end because of "strictly logistical reasons" with no new dates announced probably until all the i's and t's are dotted and crossed. According to a source who spoke to the LA Times Disney, who were originally going to distribute the films in exchange for a percentage of revenue, are now balking at giving full marketing campaigns to films they won't end up owning. Other Miramax films like Julie Taymor's "The Tempest" and Will Speck & Josh Gordon's "The Switch" found new homes under Disney's Touchstone shingle after the company's demise with the latter hitting theaters this past spring and the former coming in December. Filmyard will need to find a new distribution partner for the films which are now expected to hit theaters sometime in 2011.

Starring Sam Worthington, Marton Csokas and Jessica Chastain as three Mossad agents on the hunt for a Nazi war criminal, the flashback-laden part thriller, part romantic drama "The Debt" was one of the better scripts we'd read from Jane Goldman and Matthew Vaughn ("Kick-Ass," "Stardust") and we did have hopes for an exciting thriller at the very least; especially with the stellar cast topped off by Helen Mirren, Ciaran Hinds and Tom Wilkinson, who'll play the three protagonist's older equivalents.

Nixey's "Don't Be Afraid Of The Dark," meanwhile, stars Guy Pearce, Katie Holmes and Bailee Madison as a family who move into a derelict house, only to experience the unveiling of some terrifying creatures. Early footage has painted the picture of an unnerving, thrilling feature very much in vein of producer Del Toro's works which sounds exciting enough.

These are both promising projects and we hope they don't end up languishing on the shelf for too long.