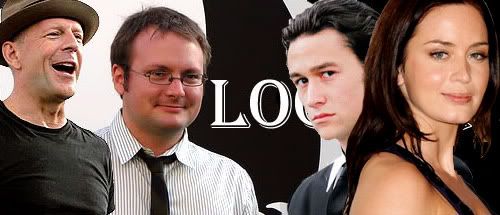 First rumored by Production Weekly, we confirmed with a source close to the film that the news is accurate, and Emily Blunt is joining Rian Johnson's sci-fi, time travel thriller, "Looper."

Blunt will join previously announced stars Joseph Gordon-Levitt and Bruce Willis in a story that Johnson has previously described as "set in a near future where time travel doesn't exist but will be invented in a few decades. [The story] involves a group of killers (called Loopers) who work for a crime syndicate in the future. Their bosses send their targets hogtied and blindfolded back in time to the Loopers, and their job is simply shoot them in the head and dispose of the body. So the target vanishes from the future and the Loopers dispose of a corpse that doesn't technically exist, a very clean system. Complications set in from there."

Last we heard, production was gearing up for a January shoot and with the casting now firming up, it looks like it's on track. No word yet on what specific roles the cast will be slotted in but that should be cleared up by time the story hits the trades. No release date yet, but hopefully a late-2011 release, though 2012 is probably more likely.