After having shooting plans pushed back earlier this year, George Miller's "Mad Max: Fury Road" has once again hit a snag and is set for yet another significant delay.

Key crew were reportedly informed this week that pre-production is not expected to begin until August or November of next year with shooting likely to begin around February of 2012 again in the Broken Hill Region of New South Wales, Australia. The delay comes very late in the game with some reports that pre-production was in fact already underway for its planned 2011 shoot — up to 130 cars and bikes were reportedly constructed and some second unit sequences already shot.

While no specific reason is given for the latest delay, the fact the Australian dollar is sky high at the moment looks to be playing a major part. Nearing parity with its U.S. counterpart, the strong dollar would probably increase costs by up to 20 percent compared to original plans; no doubt an unattractive prospect for American producers and financiers.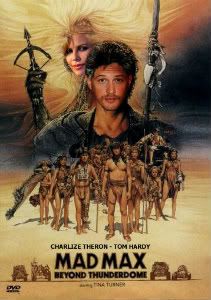 Fears are that 'Fury Road' may even be scrapped altogether as the budget balloons though, for now, it seems the project is merely being held off until next year. The tumultuous road to production is starting to bear unfortunate similarities to Miller's last major live-action attempt; his "Justice League" film for Warner Bros. was also scrapped at the final hurdle in 2008 and never recovered.

Miller also tried to revive the 'Mad Max' franchise in the early '00s with Mel Gibson returning for a $105 million shoot in Namibia. That, however, was canned 11 weeks before production was set to begin on account of the Iraq invasion. Fingers crossed this latest iteration doesn't share the same fate as his previous efforts.

Featuring Tom Hardy in the iconic role of Max Rockatansky and Charlize Theron as an amputee fighter, 'Fury Road'' is set to follow a convoy of women known as the 'Fives Wives' who require protection from the antagonists — protection which no doubt comes in the form of Mad Max himself. The production was also rumored to be gearing up for a back-to-back shoot of two sequels titled "Mad Max: Fury Road" and "Mad Max: Furiosa" with the second part possibly seeing Theron taking over the lead, though that has yet to be confirmed.

The film boasts a strong supporting cast including the likes of Nicholas Hoult, Riley Keough, Zoe Kravitz, Adelaide Clemens and possibly Teresa Palmer though whether this lineup will stay the same throughout this secondary delay remains to be seen. At the very least, we hope the exciting leading duo of Hardy and Theron stay on board. The bad news marks a horrendous week for the Australian film industry whose actors' union was just condemned by Peter Jackson as a jealous "bully boy" for recommending a boycott of his "The Hobbit" production.