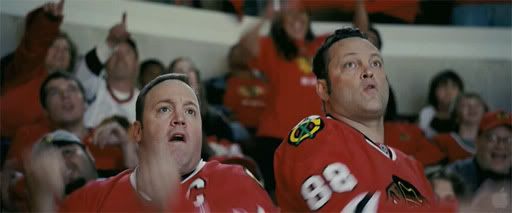 The words "Ron Howard" and "controversy" are not familiar bedfellows. Sure, there were mild fusses kicked up around "The Da Vinci Code" and its sequel, but nothing beyond expectations for movies with religious subject matter. But when CNN anchor Anderson Cooper took Universal to task on "Ellen" last week for including the line "Electric cars are gay" in the trailer for Howard's new comedy "The Dilemma," which opens in January and stars Vince Vaughn and Kevin James, controversy finally came to the artist formerly known as Opie.

Cooper called the filmmakers and studio out for including the term 'gay' as a pejorative both in the trailer and the film, and despite a claim from a Universal spokesman that no offense had been taken by "gays in our marketing department" (a spokesman who was presumably a character from "Mad Men"), the trailer was swiftly recut to remove the line in question. But it looks like that hasn't quelled the fires, as Deadline are reporting that, with yesterday being National Coming Out Day, GLAAD have called on the studio to remove the scene from the film altogether.

With a spate of horrific homophobic violence and teen suicides of late, the organization have launched an online petition to ask Universal to remove the scene. Whatever the film's supporters might say, there is something faintly offensive about the scene -- in Allan Loeb's screenplay, dated a year ago, Vaughn's character goes on to say "Not homosexual gay... but soft gay, unmanly gay, quiet and small gay" (in the trailer, the line was "my-parents-are-chaperoning-the-dance gay") and that "if you're a real man... you don't want an electronic car," which tries to swerve homophobia while still taking the word as a slur, and at no point is he reprimanded for his stance by any other character.

Really, we'd rather that comedies like this one were able to avoid using lines like this for easy, Neanderthalic lowest-common-denominator laughs. In fact, we'd rather they didn't exist at all. And this is certainly a debate worth having in the current climate. There's no denying that the line should never have been included in the trailer, and that theoretically conscientious filmmakers like Howard, Loeb and Vaughn should have thought twice about it at all. But really, they should have thought twice about the whole abominable-looking project.

The new trailer, less offensive to the gay community, but still offensive to anyone with eyes, ears, a brain and a heart, can be seen below, and you'll be able to take your most unreconstructed buddies to it on January 14th, 2011.