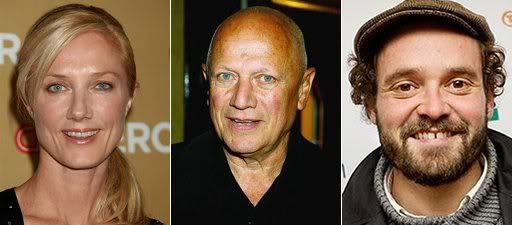 "The Social Network" is out in the world, and proving to be perhaps the most universally praised film of David Fincher's career, but we're not sure that the director's noticed, as he's now in Sweden, a few weeks into shooting on his next film, the adaptation of Stieg Larsson's blockbuster crime novel "The Girl With The Dragon Tattoo." And with filming underway, Fincher's spilled the beans on a handful of new additions to the cast.

The film toplines Daniel Craig as crusading journalist Mikael Blomkvist, and Rooney Mara as computer hacker Lisbeth Salander, with Robin Wright, Stellan Skarsgard and, most recently, Christopher Plummer all on board. Recently, Fincher talked to Swedish paper SvD to promote "The Social Network," and revealed that Joely Richardson ("The Patriot"), Steven Berkoff ("The Tourist") and Swedish actor David Dencik are also on board, although there's no word of who they'll be playing.

At a guess, we'd say that Richardson is likely to play Cecilia Vanger, a member of the family at the heart of the film's central mystery, and one of three love interests in the film for Blomkvist (while some might find the journalist's success with women in the story implausible, it totally gels with our personal experiences -- we once totally watched the commentary on the Criterion edition of "Down By Law" with a girl in our mom's basement, and nearly made eye contact at one point). Berkoff, meanwhile, could be Nils Bjurman, Salander's corrupt guardian (who would feature heavily in the sequel, should it get that far).

Dencik is interesting, meanwhile; the star of Danish film "Brotherhood," he had a brief role in the Swedish adaptation of the book, as Blomkvist's treacherous colleague Janne Dahlman, the first cast member to bridge the two films. Whether he's reprising the character (a somewhat minor one, particularly in the version that hit the screens), or taking on another part isn't yet clear. IMDB also lists him in the cast for Tomas Alfredson's "Tinker, Tailor, Soldier, Spy," so it seems like we'll be seeing much more of him.

Fincher also talked a little bit about his approach to the film to SvD, saying that "I'm looking to try to catch Sweden. I hope I can find an atmosphere reminiscent of 'Chinatown.'" It's an interesting quote (and one that suggests why Fincher would sign on to a project that seems to tread over old ground for the helmer), and one that makes us look forward to it even more. "The Girl With The Dragon Tattoo" hits theaters on December 21st, 2011.