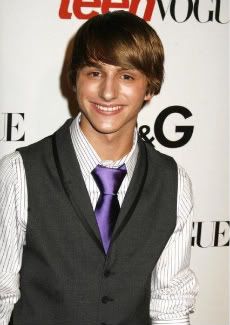 We're not big comic guys, at least this writer isn't, but one of the few series that has kept us engaged in the last few years is Marvel's "Runaways." The series, originally created by Brian K. Vaughan and Adrian Alphona, follows five L.A. teenagers who discover that their parents are actually a group of supervillains, The Pride, who control the Californian criminal underworld. Discovering their own special abilities, they go on the run and work to bring down their parents.

It probably shouldn't work, but it generally does, thanks to consistently smart writing, a genuinely compelling cast of characters, and a keen understanding of teen issues and concerns. It's long been a natural fit for film adaptation, and Marvel are set to make it the first film of their second, post-"The Avengers" wave, appointing "Raising Victor Vargas" director Peter Sollett, and "No Heroics" writer Drew Pearce, to bring it to screens, with filming set to kick off early next year.

Last week saw Keke Palmer, star of tween series "True Jackson, VP," linked to the project, and now Movieweb (via /Film) have a report of another young actor that you won't have heard of if you're old enough to drive a car who may be involved -- Lucas Cruickshank. Cruickshank is a seventeen-year-old who created the popular YouTube comedy character "Fred," a high-pitched child who fucks around not really doing much, and unfortunately failing to get into any serious, life-threatening accidents.

The character's stacked up millions of hits to date, and graduated to a full-length Nickelodeon movie in September, and it was in an interview to plug the latter that Cruickshank revealed that he was up for "Runaways." He told Movieweb that "I auditioned for that a couple of months ago, but I don't know. It was a really fun audition. So I will just wait and see what happens." Cruickshank seems like a decent fit for Chase Stein, the oldest of the runaways, a rebellious jock.

To be honest, we wouldn't bet on hearing any more on this one: even Cruickshank admits that it's a few months since he heard from Marvel, and we can only hope that, like us, the casting directors would have had an instantaneous reaction to beat his head in with a claw hammer. But then again, we're living in a world where Zack Snyder is directing "Superman." If Marvel are convinced on casting a YouTube sensation in the role, might we politely suggest Bo Burnham ("Funny People"), who's got a better look for the role. And, you know, talent.