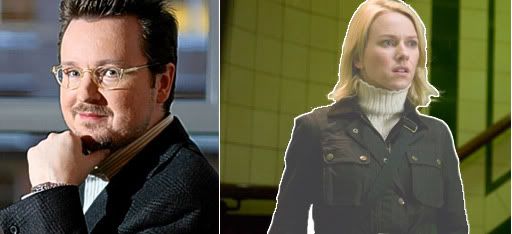 We should fully face up and admit it while we're here. Like many others, we vociferously groaned last year when we heard "Cloverfield" director Matt Reeves announced he would be filming an English-Language remake of the Swedish vampire/coming-of-age story, "Let The Right One In."

Fast forward to a year later and we were eating our words like Dracula on a bender. Reeves' "Let Me In" was not only on par with the original, it was arguably better on multiple levels. The horror wasn't cartoony (aside from maybe 1-2 shots) and actually horrific and therefore created a much more haunting dichotomy with the tenderness of the pre-pubescent friendship/love story. Plus the original didn't have the utterly amazing Richard Jenkins who emoted so much in perhaps 10 lines of dialogue or less and Chloe Moretz and Kodi Smit-McPhee, both of whom are going to be huge stars one day (especially Moretz, watch out).

Yet even good worth of mouth and reviews couldn't save the film and North American audiences ignored the version shot for them (oh the shame and irony). Not even a resounding thumbs up from Stephen King, who called it one of the best horror films in the last 20 years (we completely agree) doesn't seem like it's moved the needle at all. Sigh.

Well, onto what's next and/or may or may not be next (frankly Reeves would be an excellent "Wolverine 2" contender, but we don't want him to waste his time). Before "Let Me In" came into the picture, Reeves was going to follow-up "Cloverfield" with an indie project called, "The Invisible Woman" starring Naomi Watts.

While it sounded like a genre film and therefore easier to finance, Reeves said this was not the case at all and actually the picture was much more of a "Hitchcockian" thriller and character study that might have been a difficult sell. While Reeves calls it a "passion project" that he would one day like to make, the filmmaker noted that Watts is no longer attached and it doesn't sound like anything he is making soon. The director spoke to IGN:
"My first thought after finishing Cloverfield was to go back to my passion project, 'The Invisible Woman.' And it was a very difficult moment - I'd just done Cloverfield and that had been a success which should have helped me get the movie made, but [Invisible Woman] wasn't a particularly genre-based film. I guess you could say it's a Hitchcockian thriller, but it's very character-based. It was a quintessential independent film, and at just that moment, the independent film world started to implode. A lot of companies went out of business in a very short period of time."

"I'm getting a lot of interesting things to read (alluding to the various offers he's had in the last six months), but I'm very passionate to get 'Invisible Woman' made, and it comes down to finding the right cast and finding someone who would get behind it enough to take that risk. I don't even want to think how many years I've been trying to get this movie made but it's definitely a priority of mine to get that movie made."

What is next for Reeves? At the moment, that's undecided, but after our mixed feelings on the gimmicky, but entertaining "Cloverfield," we're suddenly excited to find there's another thoughtful genre helmer around who can bring pathos, intelligence and care to characters, on top of delivering action set-pieces and effects. Why didn't Reeves get "Superman" over Zack Snyder (or Duncan Jones for that matter)? That's a question we'll be asking ourselves all year. Btw, here's a deleted scene from "Let Me In" that you should check out.