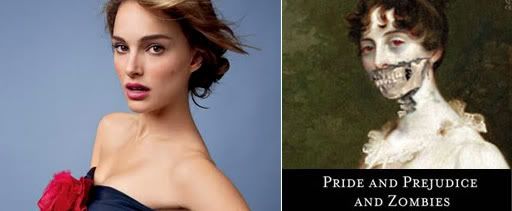 Natalie Portman seems determined to break our tiny little geek hearts this week. First, she turned down the lead role in Alfonso Cuarón's "Gravity," and now word arrives that citing scheduling conflicts, the actress will no longer be starring in the adaptation of the best-selling "Pride And Prejudice And Zombies."

This isn't the first roadblock to hit the film as earlier this week, long-attached director David O. Russell left the film after Portman couldn't agree to a start date with the director. He instead has moved on to the road-trip comedy "Old St. Louis" which will shoot next spring. Portman will stay on board the project producing under her Handsomecharlie banner, but it now remains to be seen who take over the lead role of the ass-kicking Elizabeth Bennett (let the rumors begin).

So just to recap: no Portman in either "Gravity" or "Pride And Prejudice And Zombies." But the question now is, what is the project causing a schedule conflict? Could it be the Wachowskis' "Cloud Atlas"? If so, that could go a long way in making up for passing on these two gigs.