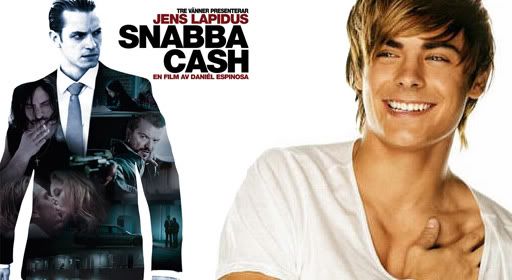 By now on this blog you've probably read about "Snabba Cash" and Daniel Espinosa so we'll try not to bore you too much with the rehash.

"Snabba Cash," or "Easy Money" as it will be known in the U.S. when it's released later this year is a taut little crime thriller we admire (see our review from TIFF 2010).

We're not the only ones who were impressed with it and earlier this year, the Swedish-made crime thriller that weaves together the intersecting lives of three disparate men was the hit of Hollywood and everyone wanted a piece of its director (he took meetings for "Wolverine 2" and more A-list gigs and eventually landed "Safe House" with Ryan Reynolds and Denzel Washington).

Even before all that buzz happened, the American remake rights to "Snabba Cash" were scooped up fast in a bidding war that Warner Bros. won with Zac Efron in the lead. That was back in April of this year and the wheels are turning. According to the L.A. Times, Noah Oppenheim — who wrote the Steven Spielberg produced "Jackie," which Darren Aronofsky is set to direct with his wife Rachel Weisz attached as the titular lead — has been hired to pen the script (a word of advice, the script is great, translate it into English, turn it in, get your paycheck and don't fuck with a good thing).

Suffice to say Oppenheim's career is on the rise. In the original film, Joel Kinnaman — who is becoming hot in Hollywood himself having already nabbed a role in "The Darkest Hour" opposite Emile Hirsch and Olivia Thirlby — plays Johan 'JW' Westlund as a young, ambitious economics student who gets in over his head becoming a coke runner, so it'll be interesting to see Efron in his first non-squeaky-clean role. What will the tweens think?