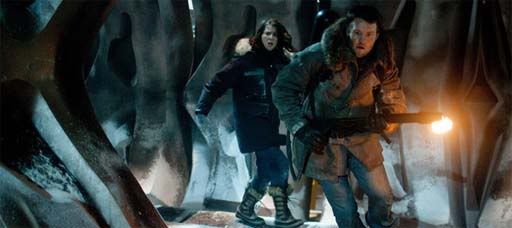 The one resounding sentiment that you got out of both the New York Comic Con panel and the newly unveiled teaser trailer for Universal's upcoming prequel "The Thing" is that the filmmakers are very respectful of the John Carpenter film that it's based upon. (His film, of course, was based on Howard Hawks' original "The Thing From Another World.") What's funny is reconciling this with what Carpenter has said repeatedly about any filmmaker that wants to remake or embellish on something that he has done, which he has said boils down to him opening up his hand, someone placing a check in his hand, and then him closing his hand.

But anyway, the first thing that the assembled "Thing" crew (director Matthijs van Heijningen, actors Joel Edgerton, Adewale Akinnuoye-Agbaje, Eric Christian Olsen and Ulrich Thomsen, and producers Marc Abraham and Eric Newman) did was show the newly cut ("I was still mixing it yesterday," said director van Heijningen) teaser trailer for the film, which is scheduled for release in 2011.

The clip started out with shots of a dreary 1980s-era New York, where two young scientists - Mary Elizabeth Winstead (who wasn't at the panel because she was getting married, thus dashing two dreams of ours in one go) and Eric Christian Olsen, chat in a cafe. Olsen is trying to convince her to come to Antarctica with him, to become part of an expedition. "What I'm offering you is an opportunity to get out in the field and do something BIG," Olsen says. "Do you actually know what it is?" she asks. "No," he answers.


From there we get quick clips of the Norwegian camp from the first film, with some great narration by expedition leader Thomsen about how "man's sense of identity, religion, culture, civilization, has forever been altered," which goes along with some eerie Norwegian folk singing and some great shots of a drill burrowing through the alien's "ice coffin," along with scary things happening, people with flame throwers, and oogie-boogie monsters. The footage looked solid but was the perfect "get the people whooping at Comic Con" set of images: clearly referential of the original film that all the geeks know and love, while not actually showing anything of substance (that could be picked apart on the internet - like right here!) It was a scrutiny-free sizzle reel. But that said, the images did look good, and even if it doesn't live up to the Carpenter original, which it almost certainly will not, it could be a fun, gooey sci-fi romp.

This was the first time the teaser had been unveiled to anyone, including members of the cast. "I was really scared, and I know what happens," Olsen quipped when asked for his impression.

"It started for us after we finished "Dawn of the Dead," which we made with Zack Snyder for Universal. We were looking at the Universal library and one of the great titles in that library is "The Thing." I don't know if you can tell from the trailer, but this movie precedes the Carpenter movie, this takes place in the Norwegian camp visited in the Carpenter movie. We made no attempt to remake "The Thing" because it's a brilliant movie and it would be very difficult to try and make a contemporary movie. Universal was very kind to let us set a movie in the Carpenter universe and keep it in that universe, and we're pretty pleased with how it ended up," producer Eric Newman said, as to why he wanted to revisit "The Thing."

"We didn't want to be in the business of painting the mustache on the Mona Lisa," fellow producer Mark Abraham added. "Once we convinced Universal that there was a real reason to do a prequel, we jumped in pretty heavily and decided to try and find the pieces in the Carpenter film that we had to match up with our picture. That became the puzzle, that became the script, we had to reverse-engineer. We actually met Mathijis through Zack Snyder [they're working on a Las Vegas-set zombie movie called "Army of the Dead"]."

On the decision to name it, simply, "The Thing," Newman said: "There were a couple of considerations that went into that. One of the great things about the Carpenter movie, and John was the first person to say this when we talked to him about it, but his was a remake of the Howard Hawks version, and ideally we loved the idea of our movie living in that universe, that world. And I thought about "Exorcist: The Heretic." There are always these colon titles that felt reverential than just calling it "The Thing." It's the same monster. And it's not a sequel. There was never any idea to throw in a subtitle. It would have felt like a videogame or something."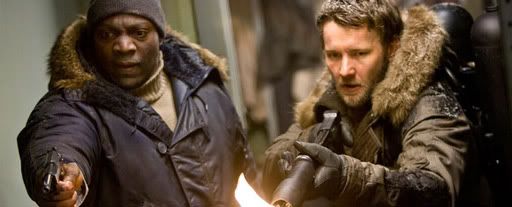 "I saw the movie when I was 15, I adored the movie, but as a European I was really interested in these poor bastards in the Norwegian camp. So I've always had a little idea about what happened in that camp. How did he get through the door? Who were these people? Were they Norwegians or was there another nationality? So my fascination came from that Norwegian part. So when I heard they were trying to do a prequel, I knew I wanted to be a part of that," director van Heijningen stated, in his interest in the project.

The actors rattled off their various parts, and they're a typically ragtag band — Edgerton and Akinnuoye-Agbaje are helicopter pilots that fly back and forth between the camps (including the American camp) and are eventually tasked with transporting the otherworldly beast; Eric Christian Olsen, as stated before, is a young biologist helping his mentor on the Antarctica expedition; and Ulrich Thomsen is the German head of the expedition. (The Norwegian actors are all overseas, working.)

"When we reconstructed, from all the clues in John Carpenter's movie, and we said that we would tell the story of the Norwegians, obviously the studio wouldn't buy it with an all-Norwegian cast," director van Heijningen said on the ethnic diversity in the cast. He went on to describe Mary Elizabeth Winstead as a "Ripley-type character. She becomes the heroine, not because she wants to but she's the smartest one on the block and if she doesn't do anything, everyone will die."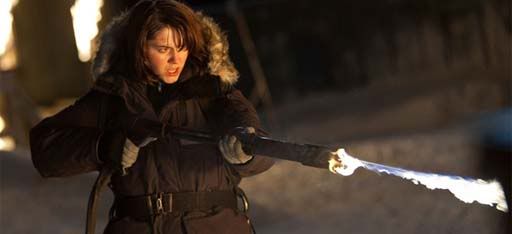 But what about the creature? CGI? Puppets? What? Director Matthijs van Heijningen answers: "One of the things I wanted to do was have the monster be practical. Now that everything is CGI, I really pushed hard for having practical monsters. And it's not only as a tribute to Carpenter. It's my experience that with actors, say you have a Norwegian guy with a flame thrower, and you say "Okay, you're going to see a green tennis ball" - his reaction will be different than if he sees a 7-foot monster. It was important we had as many real monsters as possible."

As for what the monster will look like, the director teased: "You've never seen The Thing in its pure form, but the question is — is that its pure form? It could have come from another planet and taken over that form. But we will see it in its original form, when they get it out of the ice. Then it escapes from the ice and starts attacking these guys." What remains to be seen is just how "pure," "The Thing" prequel will be. Guess we'll have to wait until April 29, 2011 to find that out for ourselves.