In "Hereafter," three stories of mortality are told. The first one we learn concerns Marie (Cecile de France), a journalist on vacation in Indonesia. The movie has barely begun when she is swept up in a violent tsunami, one that fulfills the bloodless requirement for PG-13, but is otherwise absolutely harrowing. It's impossible to understand what really happened during the real-life events depicted in the film, but even with computer generated effects, there is a unsettling universal sensation this sequence captures. You share in the fear that Marie, a media figure and woman of privilege, is carrying with her: these are my final moments. I will be powerless to prevent them.

As her lifeless body floats to the top of a submerged building, her body stops breathing, but her mind races. Something - whether it be her subconscious, her spirit, her mind - is glimpsing shadowed figures, conversations in progress, a peek into an astral plane. She emerges from this stupor, triumphant against death, but she's brought something back with her. This is not an M. Night Shyamalan film, so it certainly isn't ghosts. But that may depend on your definition of "ghosts."

The next section concerns George (Matt Damon), a somber steel worker in San Francisco running from his past. With the skill to pry into people's thoughts, his mind provides a direct line to recently-deceased loved ones. But after years of prying unpleasant secrets from the dead to shock the living, he's come to consider this ability a disease and an albatross. That doesn't stop his opportunistic brother from coming by with "very special clients" who want to talk to the dead.


In pursuit of a regular life, he's joining the singles' scene, applying for a cooking class in the city. But every touch brings someone's late partners, siblings, and friends to the forefront. George is, by all accounts, a good man, fair and polite, and even willing to humor his brother, whose entrepreneurial interests in regard to George's ability is couched in false altruism and hollow guilt. When he develops feelings for a vivacious cooking class partner, he takes great pains to hide his very peculiar baggage, though his reserved body language suggests physical intimacy greatly eludes him, and the prospect of such closeness with her is a rare exciting prospect in his colorless life.

The final portion of this triptych follows a timid English schoolboy who depends on his active twin brother. The older by twelve minutes, Jason is the risk-taker who uses charisma and aggression to make life easier for the two. This ends up being necessary with mum arriving home after hours drenched in alcohol, a practice we are to assume is frequent. When Jason is felled by a car accident, younger brother Marcus becomes the man of the household. But his life is fractured - he has no one to help with homework, no one to turn out the light at night and, inevitably, no one to make Mum more capable to discerning eyes. Soon, he's taken away for foster care, but further loss only cements the need for the connection with his brother, which he believes is only temporarily frayed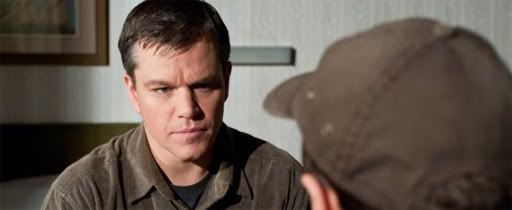 Screenwriter Peter Morgan and director Clint Eastwood aren't making a film about the intangible. Instead, it's a picture about what people do when they find themselves developing a connection with an outside force. It's an oddly supernatural detour for Eastwood, a filmmaker with an appreciation for straightforward onscreen action and intimate melodramas, but in a literal sense, the characters are all reacting to the connection with the afterlife in the great tradition of all MacGuffins - Marie is getting it, George doesn't want it, and Marcus needs it.

Eastwood's film relies on a number of agreements an audience needs to make before indulging "Hereafter." First of all, psychics are real. Some are a sham, as Marcus soon learns when he seeks a medium to speak to his brother, but occasionally, there's one like Matt Damon, a good guy who takes his work extremely seriously. Because of this, the afterlife is also real, an ethereal place where our spirits commiserate after death. A few special effects sequences don't exactly turn this into an intriguing visual concept ("X-Men" fans will be reminded of Cerebro), but it capably renders the non-judgmental next destination for all of us.


As the story evolves, Marie sees the same murky hereafter that George does, but its uncertain how she's affected by it. This new connection with ghosts shakes her, but her in-articulation combined with her personal and professional details - her boyfriend/boss gives her a foreboding "vacation time" - keeps the audience at a distance. She pools her resources into a new project, but remains afflicted by what she encountered upon resurrection, instead penning an account of what lies beyond. This book remains the best opportunity for the audience to understand what she's going through, but we hear only snippets taken out of context, and its entirely unclear what epiphany she is meant to come to. There's no tension regarding her easygoing boyfriend of indeterminate seriousness, and she has the type of job that allows for an extravagant apartment with the option of weeks off at a time, so what's at stake remains a mystery.



Young Marcus's storyline is more than a bit stronger, the boy grasping at straws regarding the afterlife, a concept he's never considered. Like each character, he is in the process of finding his identity, but he cannot move forward unless he comes to terms with the loss of his brother. Gradually, this becomes a fascination with George, who inexplicably left his own website up despite fleeing from his profession. George has met someone special, and unlike other people at his station in life, he seeks not marriage, or longtime friends, just a connection. But is he going to be able to connect with this girl without his second sight in the way?

There's an element that sabotages each story. In Marie's narrative, Eastwood can't seem to get viewers into her headspace, so an internal conflict is rendered opaque. With Marcus, his is a story of immediacy, but the cross-cutting format limits the emotional resonance of his journey, so dramatic changes - his mother ending up in a clinic - aren't given the proper gravity. And George's courtship can only end badly, since his paramour is played by Bryce Dallas Howard, an actress of no conviction who appears willfully dense whenever carrying a serious conversation. With her bubbly head bobbing and manner of phrasing statements as questions, she comes across as a dolt, and its unclear what George wants with her.

Which isn't to say "Hereafter" isn't a film of notable achievements. As per producers Steven Spielberg and Frank Marshall, the opening tsunami is a breathless wonder, edited for maximum unease and terror, so much so it's a disappointment when it merely serves as a catalyst for a rich journalist to discover she's a writer. Damon is quite good in a subdued role where his body language and squished face are necessary to reflect a young man dealing with pain and suffering beyond his years, yet another in a career of pleasant surprises from the Oscar winning screenwriter. And as Marcus, Frankie McLaren has the film's most affecting moment, in which he makes a fulfilling spiritual connection, one that he doesn't realize is severed by a lie. It may be what Clint and company are trying to tell us: a little B.S. goes a long way. [C+]