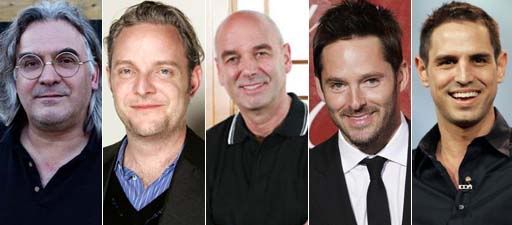 With offers having been made already to Ben Affleck and most recently, Darren Aronofsky, but with no bites yet, Warner Bros. apparently has a list of other top candidates for the director's chair of the period crime flick, "Tales From Gangster Squad."

So what's it about? The film is based on a series of articles in the L.A. Times by Paul Lieberman and was picked up soon after it's publication in 2008 by Warner Bros. who, in turn, hired former L.A. cop turned novelist Will Beall to adapt. The major focus of Lieberman's article were a specialized L.A.P.D. unit set up in the '40s to fight the growing influence of the East Coast Mafia, namely that from infamous gangster Mickey Cohen, a mogul who started as muscle for Al Capone in Chicago. It definitely sounds like some very pulpy, very exciting material.

With that in mind, Latino Review claims that Warner Bros. has five other candidates ready to call should Aronofsky pass (and we presume this means Affleck has passed as well?). Those names? Paul Greengrass, Francis Lawrence, Martin Campbell, Scott Cooper and Greg Berlanti.


The names seem to indicate a few totally different directions for the film. The first three names are helmers with some serious action chops. Greengrass is a very interesting choice; his relationship with Universal right now is rocky-to-nonexistent but he is also attached to the gestating "Treasure Island." As for Lawrence and Campbell, they have both already worked under the WB banner and are known quantities to the studio which, if Zack Snyder's hire for "Superman" means anything, is an asset to landing the gig. Campbell is currently in post-production on "Green Lantern" which is already getting positive buzz with WB already thinking about a sequel. As for Lawrence, he delivered the megahit "I Am Legend" and was the studio's go-to guy to lead the reshoots to try and salvage "Jonah Hex."

But if those choices seem a bit obvious, the latter two do not. Scott Cooper only has one film under his belt, the small but big-hearted "Crazy Heart." Jumping to what is shaping up to be a big tentpole vehicle for WB seems like a big step for the director and a gamble for the studio. And while Berlanti has gained some heat at the studio for his script for "Green Lantern" (and he's being tasked with "The Flash" and "Green Lantern 2") his directorial jobs have been quite different in scope, centering on middle-of-the-road romcom fare like "The Broken Hearts Club" and the upcoming "Life As We Know It." We can only suppose that Cooper and Berlanti's names are there should the picture take on a more character driven approach.

As always, none of these directors could end up taking the gig, but Warner Bros. seem to be making decisions fairly quickly these days (those "Superman" directing rumors ended a lot sooner than we thought they would) so we wouldn't be surprised if something official came sooner rather than later.