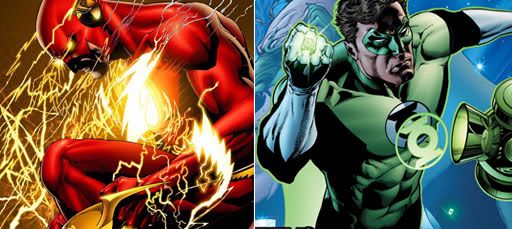 "Superman" finally has a director, Christopher Nolan's third "Batman" will film next year, and "Green Lantern" is in post-production — it looks like D.C. are finally stepping up to try and challenge Marvel, who've had something of a monopoly in recent years on big-screen heroics (although let's not forget that "The Dark Knight" is still the top-grossing film in the genre).

Deadline are reporting that the script for a version of another iconic D.C. hero, "The Flash," will be delivered to Warner Bros sometime before Christmas, with the intention being to get moving on the project next year. "Green Lantern" scribes Marc Guggenheim, Michael Green and Greg Berlanti worked on the story together, and Guggenheim and Green are putting the finishing touches to the script as we speak.

It's been rumored for a while that TV mastermind Berlanti, whose latest film "Life As We Know It" opened to poisonous reviews and underwhelming box office this weekend, would direct the film, but Finke suggests that it's unlikely, an insider telling her that "He won't want to direct it because he kinda wants to do something in between size-wise first before attempting something that large." While another source tells her that it's still theoretically possible, saying "If Warner Bros does like the script and wants him to direct it... But that's a lot of ifs. And all of it is moot if they don't dig the script," we imagine that Warner Bros may want a more experienced action guy in charge, and hopefully someone who understands how human beings behave.

But who might play The Scarlet Speedster, in whichever incarnation he ends up reaching the screen? The usually reliable Australian site Moviehole suggest that Bradley Cooper, who was also on the "Green Lantern" short list, is the current front-runner, being something of a favorite at Warners after "The Hangover." So long as he can dial down the unbearable smugness that's been something of a feature of his recent roles, Cooper seems like a decent choice, but this should all be taken as a heavy rumor for now.

In something of a show of confidence, the three writers are also currently working on a treatment for "Green Lantern 2," which will also be in studio hands for Christmas, and then worked on by "Harry Potter" scribe Michael Goldenberg. Finke's definitely-not-biased-at-all-no-sir source suggests that Martin Campbell's first film in the series is "jaw-dropping," which goes somewhat against everything we've seen and heard from the film, but we'd be as delighted as anyone if the buzz is turning around — the cast is at least promising, even if half of them are caked in unconvincing prosthetics and CGI body suits. But we'd suggest that Warners hold fire on greenlighting, say, the Blue Beetle, until Reynolds is wielding the power ring in theaters at least.

Nevertheless, D.C. heroes figure heavily into Warners' future, especially with the studio's golden-egg laying hen, the Harry Potter franchise, finally heading for the chopping block next summer. D.C. head honcho Geoff Johns confirmed earlier rumors at New York Comic Con over the weekend, via Heat Vision, that "You will see at least one, I'd expect two [superhero movies] a year." With both "Superman" and "Batman" set for release in 2012, we imagine that'll be the start of that release pattern, with "The Flash" and whatever else following in 2013. Of course, this is only the studio's ideal — and we'd like to think that they won't greenlight a superhero movie just for the sake of making up the numbers, and would rather wait until the films are ready. But then, we also believe that clapping your hands can save a fairy's life, so you know...

Any plans for an "Avengers" style team-up of the characters seems unlikely, despite the attempt a few years ago to make a "Justice League" movie with George Miller — Johns told a panel, as reported by Comic Book Movie, that "I'm going to speak frankly: I think our characters are bigger than Marvel's," and that "he'd rather spend time building each character on his or her own rather than smashing them together." While this approach is probably dictated by the realistic nature of the Batman films, and Nolan's reported refusal to play ball with any team-up, it at least makes sense that the studio are trying to follow their own path with the characters. Btw, it's said that the trailer for "Green Lantern" will premiere in front of the upcoming "Harry Potter" film in November. Both are Warner Bros. films so it's makes complete sense. Mark it on your calendar.