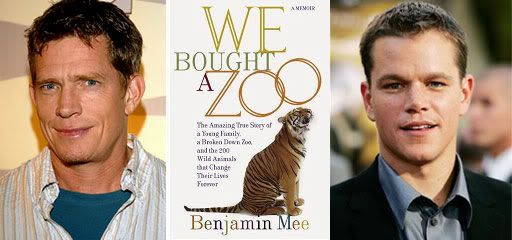 There's been a new addition to Cameron Crowe's upcoming adaptation of Benjamin Mee's novel, "We Bought A Zoo" which already stars Matt Damon in the lead role.

Variety has reported in bare bones fashion that Thomas Haden Church had joined the film, but have provided no details on what role he might play.

Earlier today we heard news that Amy Adams was weighing an offer to play the female lead role, but apparently she's on a shortlist of actresses, so if she passes — maybe to play alongside Jason Segel in the new "Muppets" movie — there could be many other contenders (we're thinking Zooey Deschanel as her second-ever film role ever was in Crowe's "Almost Famous.") The trades don't mention Adams at all and we suspect it's because she's still mulling over the role and it hasn't hit the negotiation stage. Production on "We Bought A Zoo" is expected to start in early 2011.


The script adaptation was originally penned by"The Devil Wears Prada" scribe Aline Brosh McKenna, but reports a few months ago said Crowe was rewriting to fit his style. Mee's story follows the English author (Damon's role) as he uproots his family into the countryside on a property complete with a dwindling zoo, home to over 200 exotic animals. Once there, the family is struck with the tragic cancer battle of the wife and mother (the role Amy Adams is being sought for) , whose unfortunate passing goes on to inspire the family to rebuild the zoo. Their relationship to the animals grows, ultimately healing the family's wounds and allowing them to move forward. The Amazon description of the novel says that the zoo contains "an eclectic staff" and new hires have to be made, so presumably this is where Church's role fits.

The film is already set for a December 23rd, 2011 release date which fits with its sentimental, but hopefully not mawkish sounding tone that's ideally made for all families, yet won't pander too hard. It's been five years since Crowe's unfortunate, "Elizabethtown" so we're hoping the film finds him more surefooted tonally. The director is also working on an Untitled Pearl Jam Documentary that will center around the band's 20 year anniversary which just passed this year. At one point it looked like his next feature would be the romantic comedy set in Hawaii "Deep Tiki" with Ben Stiller and Reese Witherspoon, but the project was postponed and it feels like its time has passed.