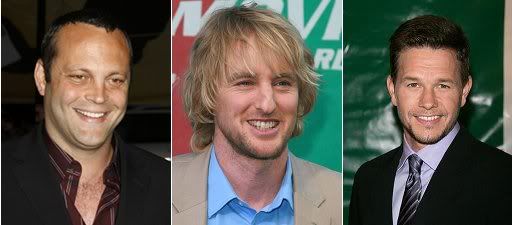 OK, these are a couple of Big If & Maybe stories as they are still in development and the talented circling may never end up coming on board, but with the names surrounding them as big as they are, it's sort of hard to ignore as well. So just consider it as a heads up.

First up, "Wedding Crashers" duo Vince Vaughn and Owen Wilson might potentially reteam for the action comedy "2 Guns." Written by "Brotherhood" scribe Blake Masters, the film would follow "two lawmen, neither of whom realizes the other is a 'good guy,' as they plot to rob a bank together, having been assigned to do so by their employers, and then must figure out who the dirty money belongs to as their respective agencies try to hunt them down." We're sure there is a piece missing to that logline that explains why a lawman would be assigned to rob a bank, but it seems right in the zone for these two. Vaughn is currently attached while Wilson is showing interest in the project that is set up at Universal.

Meanwhile, Seth MacFarlane, who never misses a moment to yell "Jew!" or "Gay!" to try and get a laugh, is putting the pieces together on his R-rated comedy, $65 million dollar feature debut "Ted." As was reported earlier in the year, the film focuses on the relationship between a man and his teddy bear (the latter character will be CG-generated and voiced by MacFarlane himself) and the problems it poses when he gets a girlfriend. So just how button pushing will it be? The film apparently has parts for "a racist homosexual, a woman obsessed with talking about men shaving their assholes, and a 'Jewish-looking' person who makes anti-Semitic remarks." So, sounds like your typical "Family Guy" episode.

Anyway, Mark Wahlberg is looking at joining the film in the lead role. Wahlberg in a foul-mouthed, taboo spewing comedy? Yeah, sure we'll believe it when we see it. And given the heavy price tag, and Universal's recent and very public run in with GLAAD over the "Electric cars are gay" joke in "The Dilemma," you can bet they're gonna be second guessing giving this film the greenlight. Btw, don't be surprise if you hear Seth Rogen's name in connection to this project, according to the recent pages of Production Weekly, the young actor has been eyed to have a role. Our guess is while MacFarlane might want to voice the animal himself, Seth Rogen might be a better name to help draw audiences in.