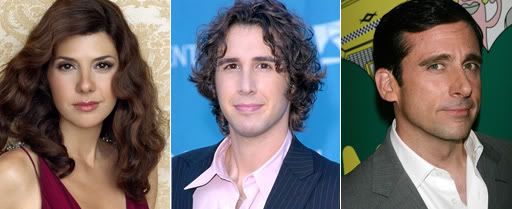 Two more, why not? Variety reports that Marisa Tomei and singer Josh Groban have joined the previously reported ensemble cast for the upcoming (and currently untitled) marital crisis comedy featuring Steve Carell, Ryan Gosling, Julianne Moore, Emma Stone, Kevin Bacon and Analeigh Tipton. Tomei will play a woman that Carell dates immediately after the cataclysmic breakdown of his marriage to Julianne Moore's character. Gosling, who will serve as a mentor to the bumbling Carell, is interested in Emma Stone's character, and her boyfriend will be played by Groban.

Groban, the cheeseball singer behind such the chart-topping hits "You Raise Me Up" and "To Where You Are," might seem like an odd fit. His acting resume is very slim and consisting only of guest spots on TV shows such as "Ally McBeal" and "Tim and Eric Awesome Show, Great Job!," however his recent turns on "Glee" have apparently gone over well (that's what we hear anyway, we don't watch the show). However, Stone's boyfriend is described as being "dull," and if Groban's music is any indication of his personality, he shouldn't have to stretch his acting muscles too hard. As for Tomei, her casting here continues her run of balancing grittier dramas ("Before The Devil Knows You're Dead," "The Wrestler") with lighter fare ("Cyrus," um, "Wild Hogs").

We read the script and enjoyed it, likening it to "a cross between a golden-era James L Brooks movie, and a version of "Love Actually" that doesn't immediately make you feel nauseous." Even though Carell is producing, it sounds like it will be more akin to a tolerable version of "Dan in Real Life" (remember that one?) rather than something like "Date Night" or "Get Smart." Production dates have not been announced yet, but it will most likely get in front of cameras once "The Office" wraps for the season.