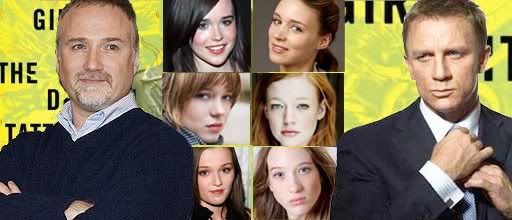 So the latest news on "The Girl With The Dragon Tattoo" casting?

Evidently director David Fincher will be testing "up to six" actresses for the title role tomorrow (Sunday). And while the final list of who exactly they will be is still somewhat speculative, the fact that these tests will be done in costume, make-up, piercings, and opposite the already-cast Daniel Craig, strongly suggests that these six are the finalists (though last we week it was thought there was five finalists).

So who are they, exactly? Well, Deadline hazards they'll be six of this eight: Emily Browning ("Sucker Punch"), Sara Snook ("Sleeping Beauty"), Rooney Mara ("The Social Network"), Sophie Lowe ("Blame"), Lea Seydoux ("Robin Hood"), Ellen Page and Mia Wasikowska. There are a few relative surprises on that list for those of us who have been following this closely: firstly, apparently Deadline have either not heard of or have disregarded the Daily Beast's contention that Browning is out of the running (which we reported here), and secondly, better-known names Ellen Page and Mia Wasikowska again show up on the shortlist, from which they had both been absent for a while, though we had our suspicions (and note, in case you were wondering, Die Antwoord South African rapper Yo-Landi Vi$$er apparently wasn't interested in acting or the role, so you can count her out too)

It should be noted, however that neither Browning nor Wasikowska made test deals initially, and while that hardly precludes them from being seen this Sunday, it might make sense of the question marks currently hovering over their names. Also, Ellen Page actually sent in her own test to Fincher, in a bid to be (re)considered for the role, and this on the back of the (admittedly somewhat shady) report that she had been asked to "continue working on her Swedish accent" during the casting process suggests that she may be being kept on as a back-up in case the more unknown actresses fail to float Fincher's boat.