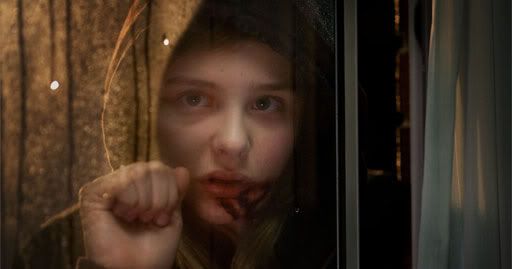 Either way, director Matt Reeves can't win. If his remake of Tomas Alfredson's "Let The Right One In" is terrible, the film and director will be held up as yet another example of a remake that fails to adhere to the qualities of the original. However, if his remake is a success because it accurately duplicates the very elements that made the original so beloved, it begs the question of why audiences should watch the American version when it was done right the first time. Certainly when the credits "Written For The Screen And Directed By Matt Reeves" come up at the end of "Let Me In" the question will be debated, but there will be no doubt on this point: Matt Reeves' "Let Me In" is not only faithful, it's just as moving and powerful as the original Tomas Alfredson film.

For those of you not familiar with the story, it follows young Abby (Chloe Moretz) who along with her father (Richard Jenkins), have just moved into a residential block of Los Alamos, New Mexico. Their neighbor is Owen (Kodi Smit-McPhee), whose is in the midst of some personal issues; his parents are divorcing and he is being viciously bullied at school. Soon, Abby and Owen strike up a friendship that grows into something more, but hits a speed bump by a very peculiar problem: Abby is a vampire.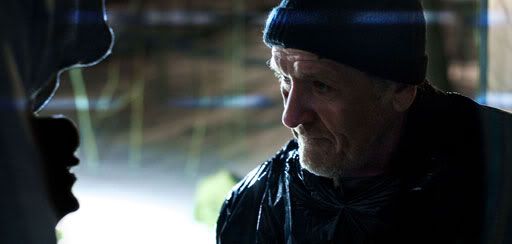 We'll stop the story details here for the readers who haven't seen "Let The Right One In," lest we be accused of dropping spoilers, but for those of you who already know the plot, rest assured that aside from some slight tweaks (including a much more prominently felt 1980s setting; Ms. Pac-Man! David Bowie's "Let's Dance"!) pretty much everything is exactly the same in Reeves' film to the point that at times, it seems like a shot by shot remake (particularly the climatic sequence and closing scene). But we'll be damned if Reeves still doesn't keep things, for the most part, engaging and more notably, as deeply felt as Alfredson's film.

The success of the film is due in large part to landing two of the best young actors working today for the lead roles -- Chloe Moretz and Kodi-Smit McPhee. The parts require an intangible enigmatic and vulnerable quality that both bring strongly to the table. As we discussed with a colleague, there may be a point in time when we look back at "Let Me In" and marvel that it starred these two actors on the cusp of a great career. But while only history will bear that out (or not), they are in fine form here. And with a cast rounded out by solid vets like Elias Koteas and Jenkins, it's a pleasure to watch the actors retell this story, even if at times things slightly drag as we wait for the film to move to the next major plot point (a problem those unfamiliar with the story will not have to worry about).